Are you a conscious business owner who'd like to promote your vegan products and services to an organically grown, engaged audience who'll appreciate and value your unique efforts? I'm so glad you found me. Let's collaborate! 🙂
I am only willing to promote
Products that I have personally tried and truly liked
100% vegan products and services – even if your brand isn't completely vegan, if you offer vegan products, I'll consider partnering with you to promote just the vegan products
Conscious organisations doing work for the betterment of the world – veganism, sustainability, reforestation, empowering (rural) women, fair trade, etc.
It's not enough that I like your brand, you should like working with me too. Being in alignment with our working and communication styles is so important. And of course, I should be able to genuinely help you grow through my promotions.
Who am I?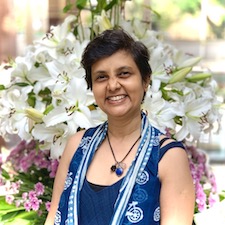 I'm Susmitha, a plant based chef, food consultant, podcaster, and blogger, among other things. But above all else, I'm a vegan! I entered this life transforming path nearly two decades ago, and it completely changed my world view. Over the years, my experience of running my own ethical vegan food business and food blog has helped me build many beautiful connections in the vegan community in India and across the world. I want to help make veganism a norm, and I believe in the power of collaborating with like minded people in a way that's mutually beneficial, while also helping the vegan movement. You can read more about me here.
How we can work together
These are the formats with which we can currently partner.
First, the Trial
Products: You'll send me your vegan products to try out. If I genuinely like them, and feel like there's a scope for me to promote them creatively, then I'd be happy to work with you.

Services: Similar to the products, I will need to experience the service and approve of it before I agree to promote it to my tribe.

Organisations: If you're an organisation without any specific products or services that I can try out, but you're doing conscious work for a greater cause that resonates with me, we can surely discuss an alternate format for an affiliation.
As soon as I've tried your product or experienced your service I'd be happy to give you an honest shout out on my Instagram stories (regardless of whether we decide to work together or not).
Once this is done and we've determined that we're a good fit to work together, then any of the following options can be explored.
Affiliation
This one's pretty straight forward. It's a simple, casual partnership.
You'll share referral codes* with me that'll offer discounts to my tribe
I promote these codes at my discretion, in whatever creative ways that occur to me via one or more of my platforms
I receive a commission on the sales my referrals generate
You'll provide me access to a dashboard where I can login and track my referrals easily
*Codes are preferable to links because they're easier to promote and easier for my audience to recall while shopping. However, if you're unable to generate codes and can only create links, we can figure out how to make that work.
Sponsorship
Sponsorship is a more organised way of working. I'll be paid in advance for marketing your brand to my audience. And there will be a previously agreed upon format of deliverables that'll be executed in a methodical fashion.
These are the different ways in which I can generate sponsored content for you. You can pick one or multiple of them.
Instagram
Instagram live video where I review and recommend your product/service/organisation (either by myself or with the founder of your brand)
A written Insta post about your product/service and a set of Insta stories
Blog/Instagram/YouTube Specifically for Food/Ingredients
Written recipe post featuring your ingredients on my food blog and Instagram
Recipe demonstration video with your ingredients that'll be posted to Instagram and YouTube
Podcast
Short ad within a podcast episode where I talk about your product/service in my own words, and mention it with a link on the episode's blog post and show notes
Podcast interview with your organisation's founder where we discuss the feel good story behind the brand, with links to your website and social media in the episode's blog post and show notes
My compensation differs with each of these modules. Once I try out your product/service, I can come back to you with suggestions on which of the sponsored options might work best for your brand, along with the pricing.
Looking forward to our collaboration
So reach out to me over email or instagram with details about your business. I'd love to build a meaningful partnership with you if we're a good fit.
Also, if you have any other ideas for ways we can work together, I'd be happy to hear them out.