Learn plant based cuisine with me in these online vegan cooking classes. These are not pre-recorded courses. They are private, one-to-one sessions that will happen live over a video call.
Find out more about me and my experience with vegan cooking. Once the pandemic situation has sorted itself out, you can also attend in-person private workshops and vegan & whole foods plant based culinary training programs with Chef Ram and me at Carrots.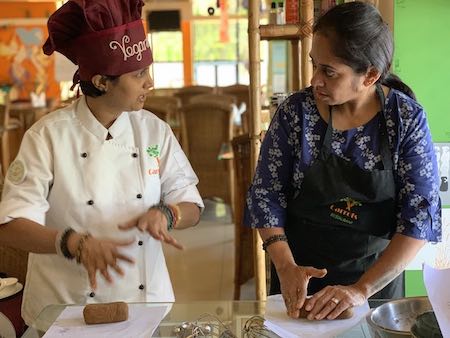 The Process
Once you book the session, I'll share instructions on prepping the ingredients for the class in advance.

During the class, I won't be demonstrating. Instead, you'll be making everything while I guide you.
I'm taking only a limited number of bookings and assigning slots on a first come, first serve basis.
Take a look at the list of available online vegan cooking classes below and send me an email to book your session.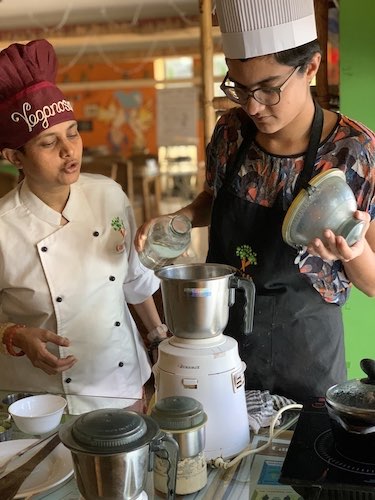 Currently I have only my most popular class available, Dairy Alternatives. I'll be adding more to the list soon.
Dairy Alternatives Workshop ₹5000 (INR) or $90 (USD)
You'll be making
Cashew-Sesame Mylk
Almond-Brown Rice Mylk
Peanut Curds
Fermented Cashew Cheese Spread
Masala Chai
Added value
Apart from the recipes, I'll be sharing plenty of tips and tricks to build a strong dairy alternatives foundation for you.
Throughout the class, I'll answer any questions you might have related to dairy alternatives.
Duration
This session takes from 1-2 hours.
Book your session now!
Highlights from my Online Dairy Alternatives Classes
If you'd like to see a few short video clips from my online classes, along with participant reactions and feedback, check out my Online Classes Instagram Story Highlights.
More Online Vegan Cooking and Baking Workshops
Chef Ram and I periodically conduct demo style online classes for groups.
Follow @veganosaurus and @carrotsrestaurant on Instagram or subscribe to the Carrots Restaurant Telegram Channel to get updates.