You've started to learn how to make vegan food. You don't quite need a cooking or baking class, but you could definitely do with some guidance. This is where I come in.
Some sample questions clients ask me during these calls
How do I make my favourite dish vegan?
Can I make my plant-based sauces and desserts rich and creamy?
How do you make vegan food taste like egg or meat?
I tried making dairy alternatives and didn't like them. How can I make them better? Which plant milk is the tastiest?
What do vegans use instead of ghee and butter?
Which commercial vegan products (in India) do you recommend for my cooking?
What sneaky non-vegan ingredients should I look for in packaged products?
I want to be less dependent on commercial plant-based products. Which of these can I make in my own kitchen?
How do vegans get their probiotics?
What's the difference between vegan and plant-based?
How can I make my home kitchen, restaurant/café, food business vegan friendly?
Book your call now or keep reading for more details.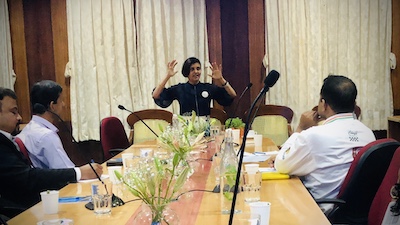 Who am I?
Hi, I'm Susmitha. I'm a vegan chef, food consultant, teacher, and business coach.
I have:
Been vegan for nearly two decades
Created one of the oldest vegan recipe blogs in the country
Taught hundreds of people, including professional chefs, to make plant-based food
Run India's first ethical vegan restaurant with in-house bakery and culinary academy for seven years (2014-2021)
As you can imagine, when I went vegan, there were absolutely no vegan alternatives in the Indian market! For years I had to fend for myself. Thanks to this, I got to experiment and develop many recipes.
Plant based mylks, curds, cheese, tofu, tempeh, pizza, pasta, cookies, cakes, chocolate mousse, ice creams, Indian sweets, creamy gravies…I've made all of these, and more, from scratch. I'm obsessed with trying several combinations of ingredients to see which ones work well together and elevate the dish to the next level.
My authority in vegan cuisine comes purely from my years of personal experience, filled with successes and disasters. 😄
I also have experience in making WFPB (whole foods plant based), raw, and allergy friendly foods. Though these are not my primary areas of expertise, I have a fair amount of knowledge about them too.
Please note, I'm not a nutritionist/dietitian, so I won't be able to provide you with health related advice, meal plans, etc.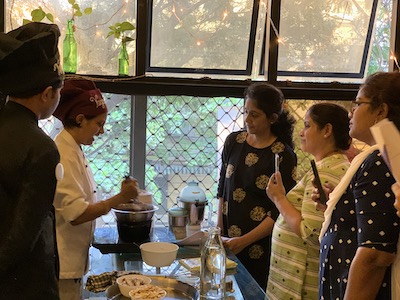 Why do I offer these vegan food consultations?
Today, we're spoilt for choice with vegan alternatives. The number of vegan food businesses in India has grown exponentially in the past few years. And non-vegan brands are quickly realising the potential of introducing plant-based options into their menus and product lines.
A lot of people from various backgrounds and age groups are understanding the ethical, health, spiritual and environmental benefits (and need) of veganism.
Though veganism is a complete lifestyle that goes way beyond food choices, food plays a significant part in making the shift. That's why it's important that you're empowered to make your own vegan food. And this is so much easier than you imagine. Not to mention loads of fun!
When you understand plant-based ingredients and cooking techniques better, you can modify your existing dishes to veganise them, and also develop new vegan recipes of your own. And these vegan food consultation calls with me will help you with exactly that.
I want to shorten your learning curve, so you can experience the delights of creating vegan cuisine in a easy and joyful way.
Testimonials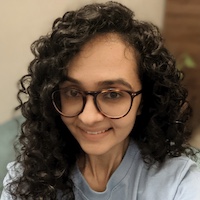 "I first met Chef Susmitha soon after I'd turned vegan – at a Dairy alternatives workshop at Carrots restaurant. I did 2 more workshops with her later – since the first one was so great.

With her guidance – you come to understand that no recipe has to be rigid – you can be flexible with whatever you have at your disposal – and you will still end up creating something yumm. These small workarounds, easy hacks – are golden.
She is someone who teaches the most complex-sounding recipes – in the most easiest way. Not only does she simplify the method, and the ingredients – she also keeps giving you MIND-BLOWING tips, tricks, and easy hacks – that's just some *golden* ish right there.

She has an amazing eye for flavours and textures – and shares very on-point technical feedback. I always feel so much more confident with a product at A Little Dipsy if I know that it's Susmitha-approved!

I've also attended her raw, whole-food desserts workshop, and a Mastermind workshop. Apart from her technical teachings as a Chef – she's such a bright person – her contagious smile and infectious positive energies can lighten up any room – even virtual rooms like her Insta Live discussions. Cannot sing enough praises of this amazing woman. I hope to keep learning from her, and pray that her positivity impacts anyone and everyone around!"
— Shruti Mishra
Vegan Chef, Entrepreneur and Master Hummus Maker (A Little Dipsy)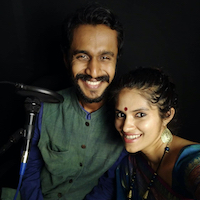 "Susmitha is an amazing Vegan Chef! There are good chefs, and then there's Susmitha. She has an in-depth understanding of flavours and textures that closely parallels her love for good food. She is the first to step forward to support the Vegan Movement, always with a ready smile.

She is one of the first people we send our experiments to. If Susmitha loves it, everyone will. Thanks Susmitha for supporting Sampoorna Ahara in empowering people and animals to live compassionate, healthier lives!"
— Dr. Achyuthan Eswar and Shyamala Suresh
Whole Foods Plant-Based Entrepreneurs, Chefs, Nutritionists (Sampoorna Ahara)
Book your vegan food consultation call
Want to get your plant-based cooking queries cleared? I'll guide you to the best of my knowledge. Sounds interesting? Here's how you can book a culinary consultation call with me…
Single 60 min online audio consultation call: $90 (USD), ₹2500 (INR)
Slots are available on weekday afternoons/evenings (Indian Standard Time). If the available dates/times on the calendar don't work for you, drop me an email before you pay to find out about alternate times/ways we can do the consultation.
Please follow these steps to book the vegan culinary consultation session.
Step 1: Make the payment via the relevant button below
Indian Rupees ₹2500
UPI: veganosaurus@icici
or
US Dollars $90
Step 2: Book your session
Step 3: Check your email for the meeting link (I'll send it to you within 1 business day)
Package of 3 online audio consultation calls of 60 min each: $230 (USD), ₹6500 (INR)
(India pricing considers lower purchasing power parity)
Don't think a single call will be enough? No problem.
In case you'd like to book multiple sessions you can opt for this package. All three sessions need to happen within a period of 30 days.
You can make the payment via the relevant button below, and then book the three sessions on the calendar above. Slots are available on weekday afternoons/evenings (Indian Standard Time).
Indian Rupees ₹6500
US Dollars $230
Still not sure if this session is for you? No problem
Let's figure out if we're a good fit to work together! Get on a free 15-minute discovery call with me to get clarity on the way forward. Answer the questions on the booking page. I'll share my evaluation during our call. If we're both happy, we can decide how to work together.
---
Susmitha Veganosaurus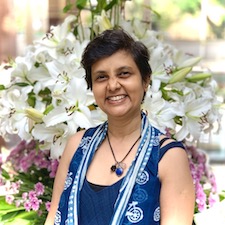 "I'm a Spiritual Vegan Multi-Passionate Entrepreneur. I read voraciously, find humour in most things, and believe kindness and authenticity can make this world a happier, loving place.

If my content resonates with you, join my free newsletter where I share Life and Business Tips, Vegan Hacks, Holistic Guidance, and more.

Vegan cuisine and holistic business building are my two biggest passions. If you're looking for guidance with vegan cooking, or want to grow your conscious business with joy and fulfilment explore ways we can work togetherhere."
---