Mini Bio
Susmitha Veganosaurus is a holistic business coach, vegan chef and culinary consultant, joyful vegan transition coach, podcaster, meditation guide, and multi-passionate entrepreneur. She helps people make happiness, fun and self-love their highest priority through her podcast (The Feel Good Factor), workshops, courses, talks and online coaching programs.
She's passionate about teaching people to lead frictionless, fulfilling vegan lives. And she mentors conscious women entrepreneurs, helping them grow their business with a focus on self-care and a mindset of abundance.
Note: Susmitha is pronounced "su-smi-tha".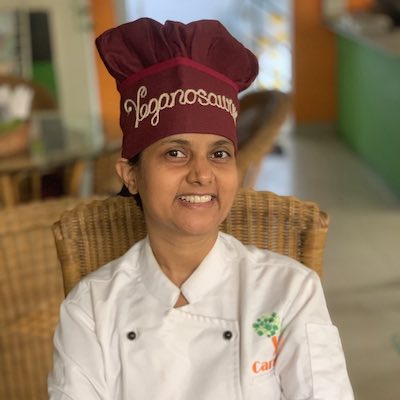 Table of Contents
Contact Information and Important Links

Website
Podcast and Blog
Vegan Recipes Blog
Online Academy
Email
Instagram: @veganosaurus
Newsletter: The Feel Good Tribe
Reasons to Contact
Request an interview (print, tv, podcast, radio, blog, IGTV)
Get help to connect with other vegans and vegan businesses in Bangalore and India
Request a speaking appearance
Request to quote any content/media from this website, podcast or blogs
Areas of Authority for Speaking
Vegan cooking and baking
Veganism as a joyful way of life and how to be vegan with ease
Abundance mindset and manifestation
Conscious entrepreneurship
Collaboration over competition
Spirituality and veganism
Prioritising joyfulness and fun
Spiritual tools for activists
Whole foods plant based and raw foods
Creating and running a Podcast
Building online courses that align with your passion
Suggested Interview Questions
Veganism
Talk about your vegan journey – how did you begin, how has it impacted your life?
Is it easy to be vegan in India? What's the trend you've seen for veganism in India over the past decade?
Talk about your vegan cooking workshops and consultations. How long have you been teaching and what made you start? What are the different kinds of classes and consultations you offer?
How do veganism and spirituality intersect?
What other causes and movements go hand in hand with veganism (feminism, sustainability, world peace, etc.)?
Does becoming vegan limit the variety of foods you can enjoy? Is it expensive to be vegan?
What advice would you give to someone who wants to transition into a vegan?
What other healthy diets go hand in hand with being vegan? Share your thoughts about Whole Foods Plant Based and Raw Foods.
What's the difference between plant-based and vegan?
Spirituality, Mindfulness, Wellness, Joyfulness and Podcast
What are some of the self-care and wellbeing habits you recommend to entrepreneurs?
Talk about the importance of setting clear boundaries, and the need for digital disconnection.
What does abundance mindset mean, in business and in life?
How is meditation helpful? What kind of meditation practices do you recommend for beginners?
What does mindfulness mean to you? How has inculcating it into your life helped you?
Share some tips on being in alignment with lunar cycles. What new moon and full moon rituals do you personally practices?
What spiritual practices are beneficial for activists?
Talk about your podcast, The Feel Good Factor. What is its purpose? What topics do you cover on it?
What's your favourite part about podcasting? Why do you recommend that people start their own podcasts?
Holistic Vegan Business Building
What does holistic vegan business building mean?
Why did you decide to become a holistic vegan business coach?
In what areas do your help your clients? Share some challenges and questions you address with them.
On your website you mentioned you prefer to coach only ethical Vegans. Why is this?
Do you mentor only women entrepreneurs?
How are vegan food businesses different from non-vegan ones when it comes to things like marketing, branding, and planning?
What top three things should someone keep in mind before starting a vegan food business?
Why is it important to set boundaries with customers and team members right from the beginning?
Why should we know who our ideal customers are? Shouldn't our goal be to get everyone to switch to a conscious lifestyle?
You often mention authenticity in your content and website, what does that mean to you? And why is it important?
Tell us some simple spiritual techniques that can be incorporated into an entrepreneur's daily life.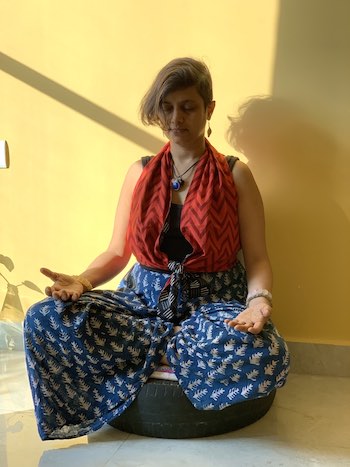 Products/Services
Detailed Long Bio
Susmitha Veganosaurus is a vegan chef, plant based culinary consultant, podcaster, meditation guide, holistic business coach, joyful vegan transition coach, artist, reiki healer, tarot reader, light worker, and multi-passionate entrepreneur.
Having growing up on a vegetarian diet, her vegan journey began in 2003 when she became aware of the cruel practices in the dairy industry. After that, there was no looking back! She started out as an ethical vegan and later learned about the health, environment and spiritual benefits of the lifestyle.
Susmitha has been exploring spirituality and energy work since she was a teenager. Her passion for veganism and connection to spirituality are the biggest influences in every aspect of her life. She often brings the two together into her classes, speaking engagements, cooking, mentoring and activism.
The Feel Good Factor Podcast
The Feel Good Factor Podcast was launched by Susmitha in December 2019. It's all about making happiness your highest priority. The podcast features contemplative talks and meditations, covering a wide range of topics.
Some of these are compassion, self-love, wellness, abundance, conscious entrepreneurship, being plant powered, prioritising yourself, self-worth, gentle productivity, multi-passionate living and women supporting women. Over time many more nuanced subjects have been emerging as a part of the conversations.
Thanks to her show, Susmitha has had the privilege to connect with various interesting and inspiring people from across the globe and build meaningful relationships.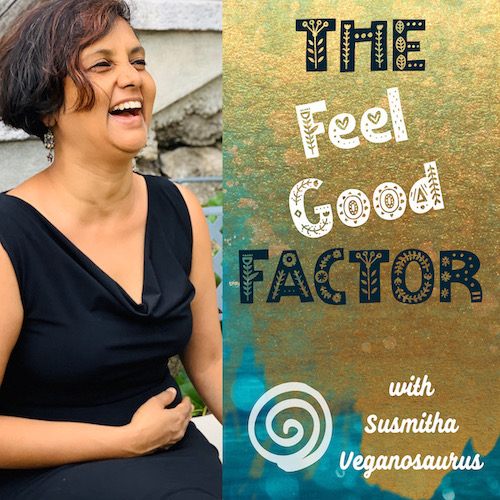 Vegan Recipe Blog
Susmitha's plant powered cooking and baking experiments in the early years of her veganism led her to publish her recipe blog, Veganosaurus in the beginning of 2008. For several years she's filled it with many easy to prepare recipes to help others on their journey into veganism.
As a food blogger, she has also curated vegan pop-up events and cooking demonstrations in association with various food businesses (eg: Graze – Vivanta By Taj, Soul Khadi). The blog went on hiatus in 2014, and was revived again in mid-2021. Susmitha also shares recipes on Instagram and YouTube.
Business Coaching for Vegan Entrepreneurs
Susmitha coaches vegan women entrepreneurs to build and grow their business in a joyful way, with a focus on self-care and a mindset of abundance. She uses her personal experience and knowledge to help people generate revenue doing what they love while making a positive impact on the world.
Her approach to coaching is holistic, combining business strategies and spiritual techniques that have served her in her own entrepreneurial journey.
Susmitha's unique hybrid Spiritual Business Guidance sessions are designed for heart based entrepreneurs with an inclination towards the mystical.
Vegan Culinary Consultation
After decades of experimenting with plant based cooking and baking, Susmitha has a deep understanding about plant based ingredients and the way they work together. Through her vegan culinary consultation sessions, she helps people get familiar with vegan cuisine so they can include plant based dishes in their restaurant, food business, or home.
Guided Meditations
Susmitha uses her naturally soothing voice to conduct meditation sessions and offer personalised meditation recordings. Her favourite form of meditation involves guided imagery. This style of meditating is suitable for beginners and seasoned practitioners alike. It stokes the listener's imagination and keeps them involved in the meditation process.

Her intention is to help people bring more peace and joy into their lives through her free meditation recordings on insight timer and her podcast. Her cooking classes, online courses, business workshops and speaking appearances usually include some form of meditation in them.
She conducted meditation sessions regularly for her own team members at Carrots Restaurant, and in the more recent times, she's developed meditation practices specifically designed to help vegan activists.
Carrots Restaurant
Chef Susmitha Veganosaurus is a co-founder of Carrots, India's first ethical vegan restaurant (with in-house bakery, and culinary academy). Their tagline is Food That Loves You Back!
The restaurant was started in February 2013 by Krishna Shastry in Bangalore with the vision to bring a conscious dining experience to the world. The team at the restaurant has successfully broken all myths about vegan food through creative, delicious dishes, and plenty of informative, educational content/events.
Unable to sustain through the pandemic, the restaurant closed its doors in January 2021, much to the heartbreak of the vegan community across India. The iconic institution was more than just a place to dine at for a lot of people. It acted as a beacon of hope and inspiration for vegan businesses across the country. A few months later, Chef Ram relaunched Carrots as a cloud kitchen and has been doing a great job of running it on his own.
Through the eight years of its existence, the restaurant menu was famous for its wide range of food, dessert and specialty product choices. With plenty of allergy friendly (gluten free, soy free, etc.) options, there was something to cater to all taste buds and food preferences.
Everything – mylks, curds, cheeses, cakes, breads, dips, sauces, etc., was prepared in-house, in small batches, using fresh, locally available ingredients. Priority was given to healthy preparation techniques and all dishes on the dine-in menu were marked with a health level indicator.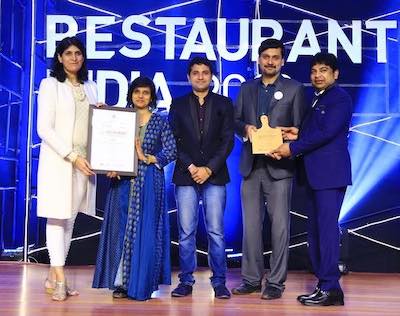 Carrots Ecosystem
The working environment and team culture at Carrots was focused on loving communication, growth and support. All staff members felt a sense of ownership and pride for the business and considered each other, as well as regular guests, as family. This translated to a joyful, positive ambience and dining experience.
Over the years, Carrots evolved into a warm, welcoming space at the heart of the vegan community in Bangalore. The restaurant was also very well known and loved among vegans from across India and globally.
As an organisation, Carrots embodied the spirit of collaboration over competition and this sentiment lives on. The restaurant was a platform to launch and promote many small businesses. And now Susmitha mentors budding conscious/vegan entrepreneurs, especially women, to help grow their business.
The restaurant's team was involved in various CSR initiatives over the years, the most well known ones being – The Good Karma Meal Project (replaced by the Let's Fight Hunger Campaign in mid-2020) and their very unique Vegan Activists Reward Program.
Carrots built a beautiful ecosystem of healthy business collaboration, vegan activism, cozy atmosphere and delicious food. When the restaurant closed, the team was inundated with messages of heartfelt support and stories of personal impact. One of the regular patrons wrote, "even though Carrots the restaurant has closed, Carrots the movement will live on."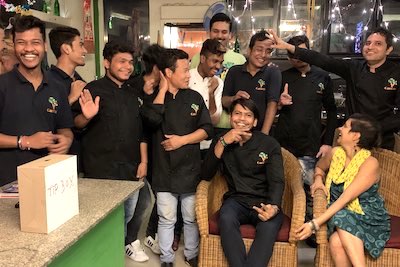 Vegan Culinary Workshops
Susmitha believes that empowering everyone to make their own vegan foods is one of the most effective ways to take the movement forward. The vegan cooking and baking classes and recipe videos (in English and Kannada), continue to be a significant part of the Carrots legacy even now.
Chef Susmitha and Chef Ram (current owner of Carrots) have conducted culinary training sessions at hospitality schools and institutions in association with animal welfare organisations such as Humane Society International and Mercy for Animals.
Susmitha's private online dairy alternatives workshop and vegan culinary consultation sessions have garnered appreciation from people from different parts of the world.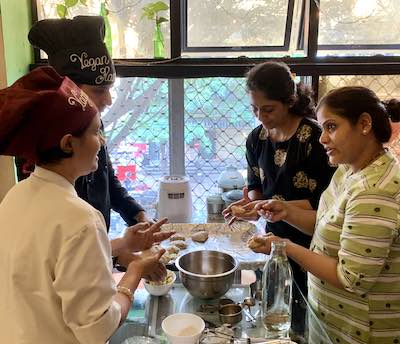 Rudely Awakened
Though kindness, love and being high vibe is Susmitha's default setting, she also has a dark, angry, terribly potty mouthed side to her. In an attempt to resolve the two together, Rudely Awakened was born.
It's a series of hilarious images and stop motion videos featuring magical, highly enlightened celestial beings of love, light… and profanity. They're blunt, callous, coarse, cocky, curt, obscene, offensive, and uncivil. These creatures are here to whoop your spiritual ass back into gear, and they don't intend to be polite about it.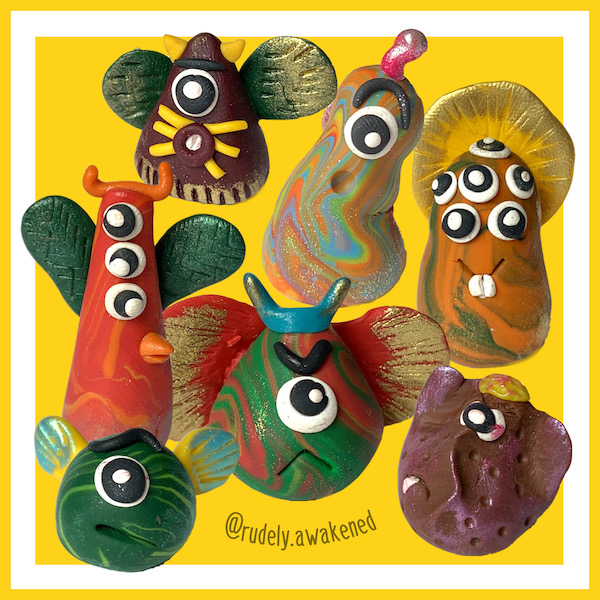 Art and other Interests
Susmitha's other interests include reading (mostly fiction), collecting magical healing crystals, reading Goddess and Tarot Cards, journaling, Reiki, visualisations and affirmations.
Some of the other ways in which Susmitha gets her creativity fix is through making jewellery, miniature clay animals and monsters, doodling, and making stop-motion videos.
She used to sell her handmade jewellery, mini animals and monsters, and art photography prints through her Etsy stores – Art by Susmitha and Veganosaurus from 2007 to 2012. You can explore the Art by Susmitha and Veganosaurus Facebook albums for archives of her creations.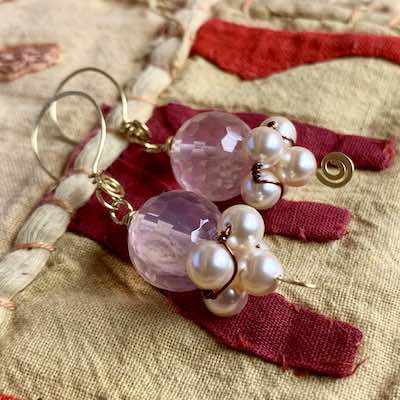 Additional Information
Susmitha is a typical Bangalorean who speaks many languages. But the two closest to her heart are Kannada and English.
Thanks to her desire to communicate meaningfully and clearly, she has the tendency to pick up phrases and words from new languages when she's around people who are speaking them.
Susmitha is particular about the way her name is spelled and pronounced. There is only one 'h' in her name, and it's after the 't'.
Often when people mispronounce her name, she points out the correct pronunciation once. But after that she leaves it up to them to remember to say it right, resigned to the fact that many people might not.
When someone makes the effort to remember the correct pronunciation after she's told them, she really appreciates it. And of course she feels a surge of affection towards anyone who pronounces her name right the very first time they say it, without having to be told how to do so!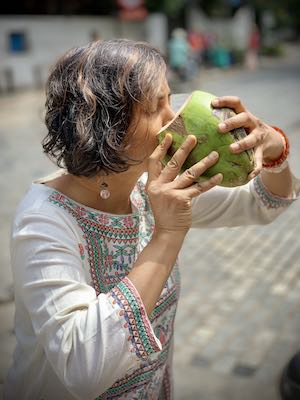 Susmitha's Media Features
Susmitha's interviews and features on TV, Radio, Podcasts, Magazines, Newspapers and Digital Media.
Podcast Interviews:
Check this Spotify Playlist of all podcasts featuring Susmitha, or explore them individually below
TV and YouTube Channels:
Radio Appearances:
Print and Digital Media Features (2021 Onwards):
Susmitha has been featured, interviewed and quoted in various news papers, magazines, websites and blogs for many years prior to 2021. These include – National Geographic Traveller UK, Deccan Herald Metro Life, Bangalore Mirror, Deccan Chronicle, Femina, Huffington Post, Entrepreneur India, VegPlanet Magazine, LBB, Asian Age, and many more.
Below are just a handful of the many print and digital publications which have interviewed and featured Susmitha. You can find more links in the media sections of Carrots Restaurant and Veganosaurus Blog.