Mini Bio
Susmitha Veganosaurus is a vegan chef, podcaster, meditation guide, artist, influencer, holistic business coach and multi-passionate entrepreneur.
She runs Carrots, India's first vegan restaurant, bakery, and culinary academy. And she's the host of The Feel Good Factor, a podcast about making happiness your highest priority.

Susmitha mentors and coaches vegan women entrepreneurs and helps them grow their business in a joyful way, with a focus on self-care and a mindset of abundance.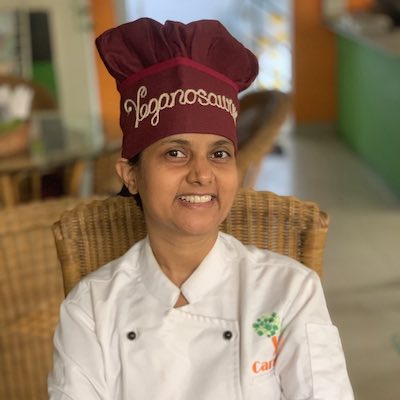 Table of Contents
Contact Information and Important Links
Please contact the relevant email id or instagram handle, based on the topic of interview/feature.

Websites: Veganosaurus, Carrots Restaurant, The Feel Good Factor Podcast
Email: Carrots Restaurant, Veganosaurus, Podcast
Instagram: @veganosaurus, @carrotsrestaurant
YouTube: Carrots Restaurant
Restaurant Address and Phone Number:
Carrots Restaurant
607, First Floor, SLV Towers,
80 Feet Road, Koramangala 6th Block,
Bangalore – 560095
Karnataka, India

Mobile for Whatsapp/Telegram: +91 9632041340
Landline: +91 80 41172812
Reasons to Contact
Areas of Authority for Speaking
Suggested Interview Questions
Veganism
Talk about your vegan journey – how did you begin, how has it impacted your life?
Is it easy to be vegan in India? What is the trend you've seen for veganism in India over the past decade?
How do veganism and spirituality intersect?
What other causes and movements go hand in hand with veganism (feminism, sustainability, world peace, etc.)?
Does becoming vegan limit the variety of foods you can enjoy? Is it expensive to be vegan?
What advice would you give to someone who wants to go vegan?
What other healthy diets go hand in hand with being vegan? Share your thoughts about Whole Foods Plant Based and Raw Foods.
Carrots
Talk about Carrots Restaurant's journey and philosophy. What are the different services and initiatives do you run as a part of your business?
Is it easy to run a vegan restaurant? How easy is it to source vegan ingredients locally?
What are the kinds of dishes you serve? What are the most popular items on your menu?
Who are your customers? Do non vegans also eat at your restaurant?
What are some of the conscious business practices you follow? Share some details about your work environment and team culture.
Talk about your vegan cooking classes. How long have you been teaching and what made you start? What are the different kinds of classes you offer?
Why do you conduct cooking classes and offer vegan menu consultation services? Wouldn't that just create more competition for your business?
Carrots is known as the heart of the vegan community in Bangalore. How do you support other vegan businesses and the vegan movement?
Spirituality, Wellness and Podcast
What are some of the self-care and wellbeing practices you recommend to entrepreneurs?
How is meditation helpful? What kind of meditation practices do you recommend for beginners?
What spiritual practices are beneficial for activists?
Talk about your podcast, The Feel Good Factor. What is its purpose? What topics do you cover on it?
Why create a podcast when you could blog or make youtube videos?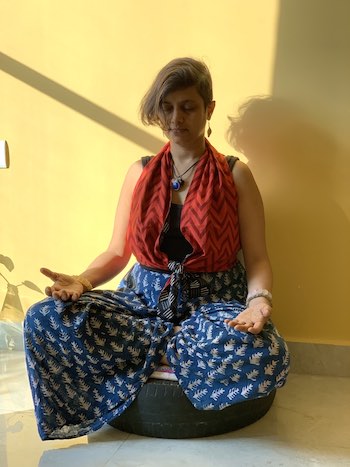 Detailed Long Bio
Susmitha Subbaraju, more popularly known as Susmitha Veganosaurus is a vegan chef, podcaster, meditation guide, artist, holistic business coach, influencer, healer, lover, lightworker, and multi-passionate entrepreneur.
Having growing up on a vegetarian diet, her vegan journey began in 2003 when she became aware of the cruel practices in the dairy industry. After that, there was no looking back! She started out as an ethical vegan and later learned about the health, environment and spiritual benefits of the lifestyle.
Susmitha has been exploring spirituality and energy work since she was a teenager. Her passion for veganism and connection to spirituality are the biggest influences in every aspect of her life. She often brings the two together into her classes, speaking engagements, cooking, mentoring and activism.
The Feel Good Factor Podcast
The Feel Good Factor Podcast was launched by Susmitha in December 2019. It's all about making happiness your highest priority. The podcast features contemplative talks, interviews and meditations, covering a wide range of topics.
Some of these are compassion, self-love, wellness, abundance, conscious entrepreneurship, being plant powered, prioritising yourself, self-worth, productivity, and women supporting women.
Over time many more nuanced subjects have been emerging as a part of the conversations.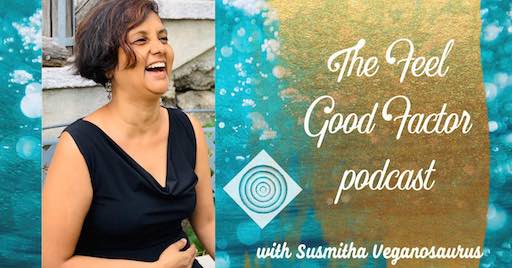 Carrots Restaurant
Chef Susmitha Veganosaurus is a co-founder of Carrots, India's first 100% vegan restaurant (with in-house bakery, and culinary academy). Their tagline is Food That Loves You Back!
The restaurant was started in February 2013 by Krishna Shastry in Bangalore with the vision to bring a conscious dining experience to the world. The team at the restaurant has successfully been breaking all myths about vegan food through creative, delicious dishes. And plenty of informative, educational content/materials.
The food, dessert and specialty products menus together offer a very wide range of choices to everyone. With plenty of allergy friendly (gluten free, soy free, etc.) options, there is something to cater to all taste buds and food preferences (eg: whole foods plant based, raw food).
Everything – mylks, curds, cheeses, cakes, breads, dips, sauces, etc., is prepared in-house, in small batches, using fresh, locally available ingredients. Priority is given to healthy preparation techniques and all dishes on the dine-in menu are marked with a health level indicator.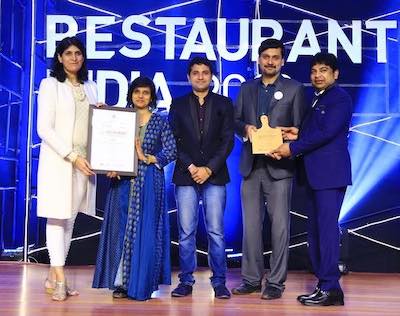 Carrots Ecosystem
The working environment and team culture at Carrots is focused on loving communication, growth and support. All staff members feel a sense of ownership and pride for the business and consider each other, as well as regular guests, as family. This translates to a joyful, positive ambience and dining experience.
Over the years, Carrots has evolved into a warm, welcoming space that's the heart of the vegan community in Bangalore. The restaurant is also very well known and loved among vegans from across India and globally.
As an organisation, Carrots embodies the spirit of collaboration over competition. Susmitha therefore mentors budding conscious/vegan entrepreneurs, especially women, to help grow their business. The restaurant has been a platform to launch and promote many small businesses.
The restaurant's team has been involved in various CSR initiatives over the years, the most well known ones being – The Good Karma Meal Project (replaced by the Let's Fight Hunger Campaign during the coronavirus lockdown) and their very unique Vegan Activists Reward Program.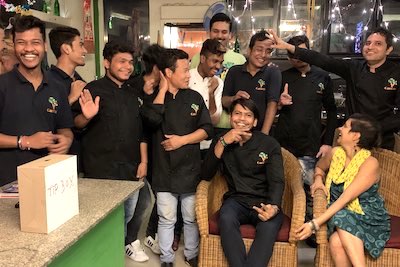 Vegan Culinary Workshops
The people of Carrot believe that empowering everyone to make their own vegan foods is one of the most effective ways to take the movement forward. This is why the cooking and baking classes, immersive culinary courses, YouTube videos (in English and Kannada) and recipe demonstrations for groups, continue to be a significant part of Carrots Restaurant's activities and growth plan.
Chef Susmitha and Chef Ram (Head Chef at Carrots) have conducted culinary training sessions at hospitality schools and institutions in association with animal welfare organisations such as Humane Society International and Mercy for Animals.
Susmitha's private online dairy alternatives workshop has garnered appreciation from people from different parts of the world.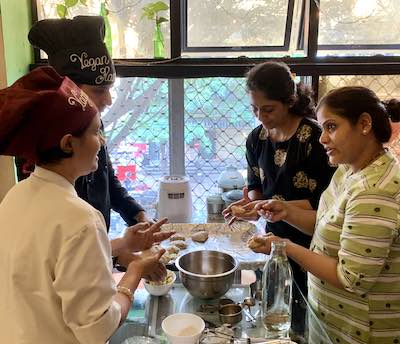 Vegan Recipe Blog
Susmitha's plant based cooking and baking experiments in the early years of her veganism led her to publish her recipe blog, Veganosaurus in the beginning of 2008. For several years she filled it with many easy to prepare recipes to help others on their journey into veganism.
As a food blogger, she has also curated vegan pop-up events and cooking demonstrations in association with various food businesses (eg: Graze – Vivanta By Taj, Soul Khadi). The last recipe on the blog was posted in 2014. Someday soon, Susmitha plans to revive it again. Meanwhile, she continues to post new recipes on her Instagram account.
Business Coaching for Vegan Entrepreneurs
Susmitha coaches vegan women entrepreneurs to build and grow their business in a joyful way, with a focus on self-care and a mindset of abundance. She uses her personal experience and knowledge to help people generate revenue doing what they love while making a positive impact on the world.
Her approach to coaching is holistic, combining business strategies and spiritual techniques that have served her in her own entrepreneurial journey.
Guided Meditations
Susmitha uses her naturally soothing voice to conduct meditation sessions and record personalised meditation recordings. Her favourite form of meditation involves guided imagery. This style of meditating is suitable for beginners and seasoned practitioners alike. It stokes the listener's imagination and keeps them involved in the meditation process.

Her intention is to help people bring more joy and peace into their lives through her meditations. Her cooking demonstrations and speaking appearances usually begin with a short meditation.
She conducts meditation sessions regularly for her own team members at Carrots Restaurant. And in the more recent times, she's developed meditation practices specifically designed to help vegan activists.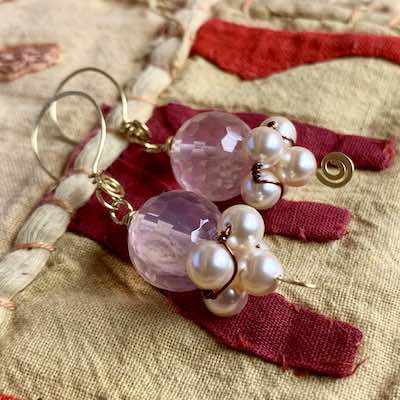 Art and other Interests
Some of the ways in which Susmitha gets her creativity fix is through making jewellery, miniature clay sculptures, doodling and photography.
She used to sell her handmade jewellery, mini animals and monsters, and art photography prints through her Etsy stores – Art by Susmitha and Veganosaurus for many years. But for the past few years, she hasn't found the time to pursue these creative interests as a business anymore. You can explore the Art by Susmitha and Veganosaurus Facebook albums for archives of her creations.
Susmitha's other interests include reading (mostly fiction), collecting magical healing crystals, reading Goddess and Tarot Cards, occasional journaling and affirmation writing.
Additional Information
Susmitha is a typical Bangalorean who speaks many languages. But the two closest to her heart are Kannada and English.
Thanks to her desire to communicate meaningfully and clearly, she has the tendency to pick up phrases and words from new languages when she's around people who are speaking them.
Susmitha is particular about the way her name is spelled and pronounced. There is only one 'h' in her name, and it's after the 't'.
Often when people mispronounce her name, she points out the correct pronunciation once. But after that she leaves it up to them to remember to say it right, resigned to the fact that many people might not.
When people make the effort to remember the correct pronunciation after she's told them, she really appreciates it. And of course she feels a surge of affection towards anyone who pronounces her name right the very first time they say it, without having to be told how to do so!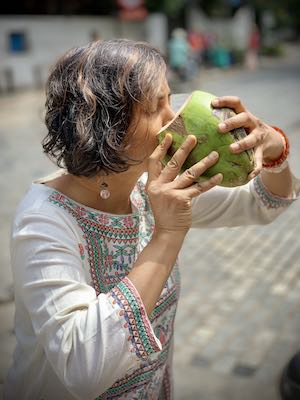 Products/Services
Susmitha Veganosaurus
Carrots Restaurant
Susmitha's Media Features
Susmitha has been featured on TV, Radio, Podcasts, Magazines, Newspapers and Digital Media.
TV Appearances:
News9 (multiple times)
Supreme Master Television – part 1, part 2
Shankara TV
Radio Appearances:
Fever 104 FM (2020)
Fever 104 FM (2018)
Radio Indigo 91.9 FM (2016)
Podcast Appearances:
Let's Veg About It (2 appearances)
Beauty Call
Food Heals (3 appearances)
Podcasting Business School
It's Kritikal (coming up)
Elevate Your 8 (coming up)
The Road to Health (coming up)

You can look at her Creator Profile on Podchaser for a detailed list of her podcast appearances.
Print and Digital Media Features:
Susmitha has been featured, interviewed and quoted in various news papers, magazines, websites and blogs. These include – Deccan Herald Metro Life, Bangalore Mirror, Deccan Chronicle, Femina, Huffington Post, Entrepreneur India, VegPlanet Magazine, LBB, Asian Age, and many more.
Below are just a handful of the many print and digital publications which have interviewed and featured Susmitha. You can find more links on the media sections of Carrots Restaurant and Veganosaurus Blog.