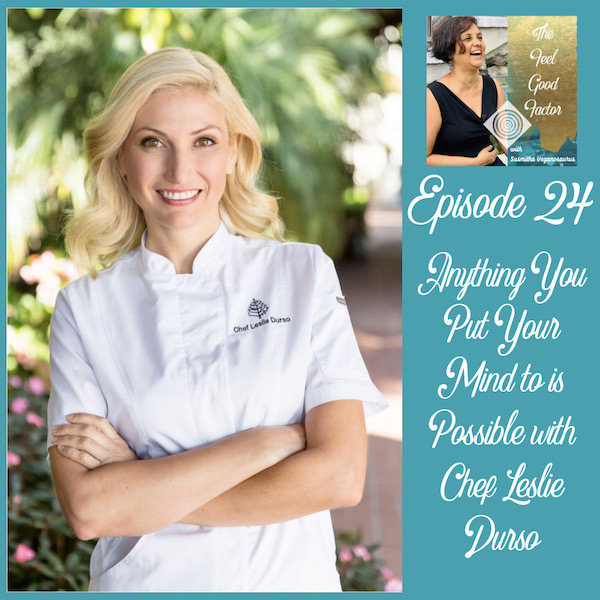 At first she was a model/actor/tv show co-host, from there, she pivoted into a career as a highly successful vegan chef. Leslie Durso talks about her journey, inspiration and work ethic in this conversation.
Her message? With determination, dedication and discipline, you can achieve all your dreams!
Explore more episodes featuring inspiring vegans on The Feel Good Factor Podcast.


More about Chef Leslie Durso
A vegan chef and wellness expert, Leslie is the glowing face of a fresher plant-based movement that refuses to compromise style for sustainability. Walking the plant-based talk since age eight, this Southern California native has always been well ahead of the times with her meatless mindset. She works as a consulting chef for hotels, resorts, and restaurants around the world and is currently the vegan chef at the Four Seasons, Punta Mita, Mexico.
Once simply known as Leslie the lab girl with Bill Nye the science guy, Leslie took her love of education and shifted from science to plant based food. After establishing herself as a private chef for the NYC and Hollywood elite, Leslie emerged as a public persona, hosting cooking segments on television and online.
Maxim Magazine wrote: "We want to hire Leslie as our own personal chef! We'll even eat vegetables for her."
You can connect with Leslie at:
Instagram: @lesliedurso
YouTube: lesliedurso
Website
"My whole life I just dive into things wholeheartedly. I go in a hundred percent. And so there is no option of failure…there is no plan B. That's just what I'm gonna do. And I don't stop until I do it."

Chef Leslie Durso – The Feel Good Factor with Susmitha Veganosaurus

Transcript (edited for better reading experience)
Work in progress.
Transcribed by Otter.