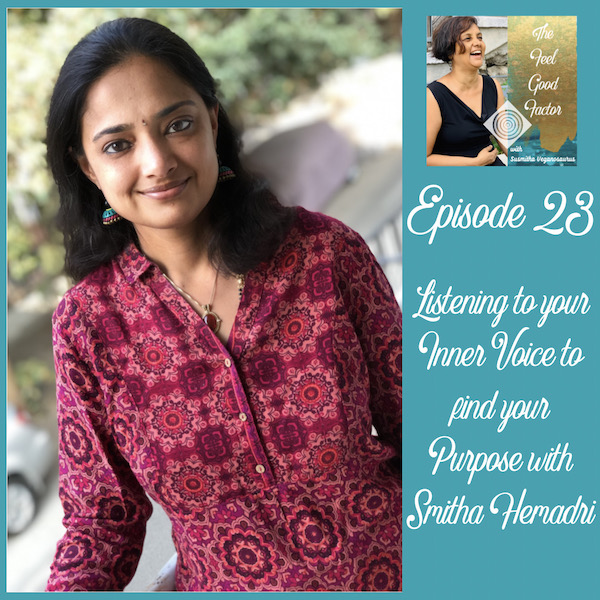 This enlightening conversation on The Feel Good Factor Podcast will inspire and help you find your purpose.
From being an IT project manager to becoming a vegan baker and finally transitioning into a holistic life coach, Smitha Hemadri talks about her journey to finding her life's path.
Smitha also shares a wide range of guidance from what she has learnt through her life experiences.
Natural healing
Art of surrender
Going with the Universe's flow
Teaching children to unreservedly follow their inner voice
And so much more
I hope that her story offers clarity and direction to everyone. Especially in this time of self-reflection, as we stay home during the coronavirus lockdown.


More about Smitha
Smitha Hemadri is a holistic lifestyle coach with over six years of experience specialising in educating people to heal naturally. She uses an integrative approach to lifestyle habits such as nutrition, dealing with social relationships, physical fitness and spirituality to name a few.
She has learnt the art of listening to her inner voice. This helped her make changes that were needed to get her to where she is today. She aspires to transform the lives of as many people as possible in her lifetime. And inspire many more to join this cause.
You can connect with her at @smithahemadri on Instagram.
"Look at the pattern that keeps coming to you, because every single experience you are hit with is teaching you a lesson."

Smitha Hemadri – The Feel Good Factor with Susmitha Veganosaurus

Transcript (edited for better reading experience)
Work in progress.
Transcribed by Otter.