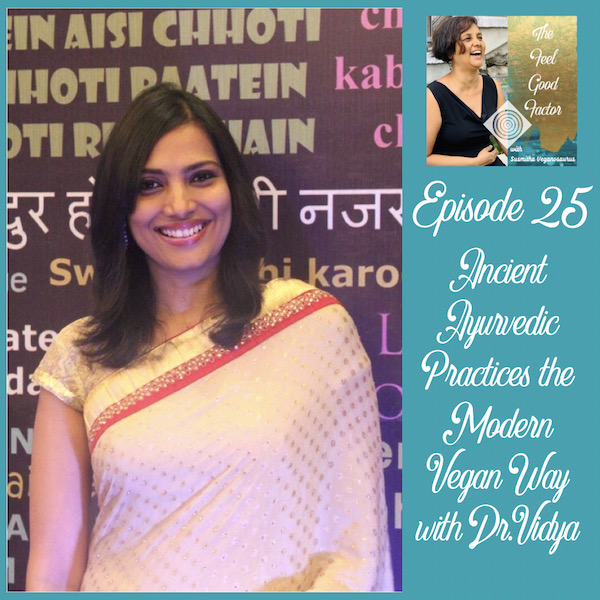 Ayurveda is a powerful holistic healing science, with its origins in ancient India. However, is a vegan version of ayurveda possible?
This is an incredibly insightful conversation with Dr. Vidya Chakravarthy, an Ayurvedic and functional medicine practitioner, who is also an ethical vegan.
We discussed the physical, mental, emotional and spiritual aspects of healing, as taught in Vedic texts. Content that was written thousands of years ago. We also spoke about the smooth merging of these Ayurvedic practices with purely plant based living, to align with the need of today's times.
Listening to Dr. Vidya's experiences and thoughts will leave you with the clarity that Vegan Ayurveda is not only possible, but actually makes the most sense when it comes to wellness!
Explore more self-care and wellness episodes, and talks featuring inspiring vegans, on The Feel Good Factor Podcast.


More about Dr. Vidya
Dr. Vidya Chakravarthy is an Animal Lover, Activist, Speaker, Plant Based Ayurvedic Doctor and Healthcare IT specialist for over 17 years. She is currently focused on improving ways to take Ayurveda to the world, with a vision to enhance and enrich health and wellness.
Connect with her via:
Website: Promotive Health
Instagram: @doctorvidya
"We're actually a form of energy. So Ayurveda mentions this energy. We are made up of five Koshas, these circles of energy around us. It's something that we cannot see, but it is palpable. You can feel it…So it's not just about good food. It's also about the happiness, it's about the good deeds that we need to do. We need to exercise empathy, kindness and compassion."

Dr. Vidya Chakravarthy – The Feel Good Factor with Susmitha Veganosaurus

Transcript (edited for better reading experience)
Work in progress.
Transcribed by Otter.