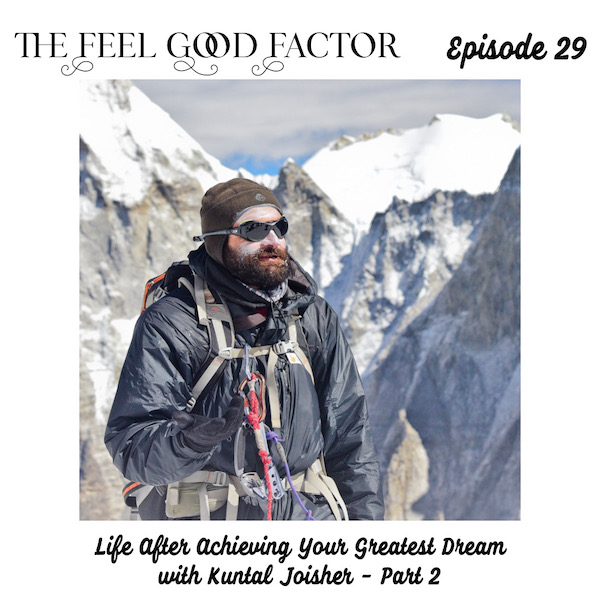 Continuing my conversation with vegan mountaineer Kuntal Joisher about his feelings and experience when he reached the summit of Mt. Everest, and his life after that.
In last week's episode, he spoke about what made him become a vegan mountaineer to begin with. In this second and final part of the interview, he shares his motivation behind going through the arduous journey of climbing the mountain for the second time, what keeps him going in life after achieving his biggest dream and his goals for the future.
This episode is worth a listen just to hear the powerful emotions in his voice as he shares his story! Be prepared to be moved.
Listen to more episodes featuring inspiring vegans on The Feel Good Factor Podcast.


More about Kuntal:
Kuntal Joisher combines the distinction of being both an accomplished mountaineer and a high-end, computer science professional. His insatiable passion for mountaineering has led him to climb mountain ranges across the world. These include the Western Ghats, the Northern Ice cap in Chile, and the Nepalese and Indian Himalaya.
Kuntal has climbed to the top of Mt. Everest from both Nepal side (May 19th 2016), and China side (May 23rd, 2019). He regularly travels across the world to speak about his life transforming journey. He hopes to inspire his audience to pursue their dreams and passions.
In addition to his dedication to mountaineering, Kuntal is passionate about three causes: raising awareness about the disease of Dementia, spreading the message of Veganism, and education of the underprivileged in Nepal.
Connect with him on:
Instagram: @kuntalj
Facebook: Kuntal A Joisher
Youtube: KuntalJoisher
"For me, it was that journey that started in 2009. From getting to the top of that small peak, and having a dream, of chasing a certain state of mind. And then finally getting to the pinnacle of that journey. Overcoming so many things and doing something that I always thought was impossible. And proving to myself I can do this…I think that is the reason why we climb. In addition to the journey of transformation that we take."

Kuntal Joisher – The Feel Good Factor with Susmitha Veganosaurus

Transcript (edited for better reading experience)
Work in progress.
Transcribed by Otter.