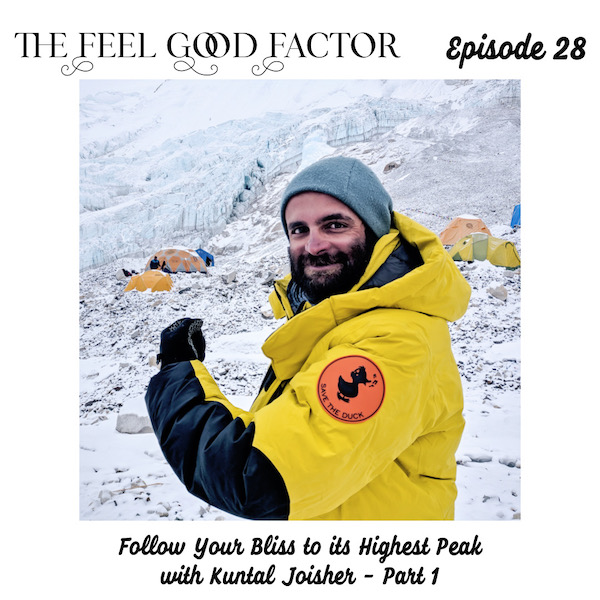 Kuntal Joisher is the first vegan to have climbed Mt. Everest. And he's done it twice!
This episode is part one of a two part series. In today's conversation we get to know all about Kuntal's back story and inspiration. The twists and turns in his life that unexpectedly led him on his journey to becoming a passionate mountaineer.
Kuntal is an incredible storyteller! Each time I listen to him talk, I can picture his experiences with so much clarity and detail. Today's conversation stops short of Kuntal's actual arrival at the summit of Mt. Everest, and there's already so much to be inspired by!
My hope is that between this episode and the next, Kuntal Joisher's story motivates you to follow your dreams. And see the value in making them come true no matter what.
Listen to more episodes featuring inspiring vegans on The Feel Good Factor Podcast.


More about Kuntal:
Kuntal Joisher combines the distinction of being both an accomplished mountaineer and a high-end, computer science professional. His insatiable passion for mountaineering has led him to climb mountain ranges across the world. These include the Western Ghats, the Northern Ice cap in Chile, and the Nepalese and Indian Himalaya.
Kuntal has climbed to the top of Mt. Everest from both Nepal side (May 19th 2016), and China side (May 23rd, 2019). He regularly travels across the world to speak about his life transforming journey. He hopes to inspire his audience to pursue their dreams and passions.
In addition to his dedication to mountaineering, Kuntal is passionate about three causes: raising awareness about the disease of Dementia, spreading the message of Veganism, and education of the underprivileged in Nepal.
Connect with him on:
Instagram: @kuntalj
Facebook: Kuntal A Joisher
Youtube: KuntalJoisher
"For me, it was like, 'Wow. This is definitely a second chance to live my life. Not many get second chances in live their lives, and so I have to really really make use of this. Every single second that I'm going to live from this point onwards is just a bonus…I should just enjoy. I should work hard on pursuing my dreams and passions more now.'"

Kuntal Joisher – The Feel Good Factor with Susmitha Veganosaurus

Transcript (edited for better reading experience)
Work in progress.
Transcribed by Otter.