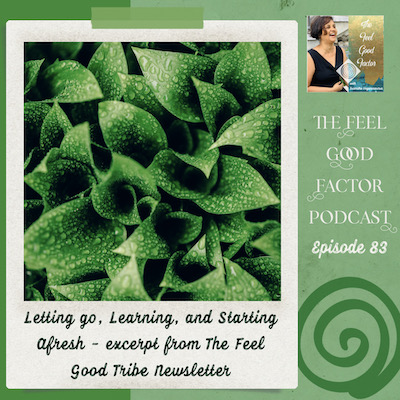 A quick episode about starting afresh this new year. Letting go of and dropping whatever didn't serve us last year, taking away important lessons, and applying them to the coming year.
This episode features an excerpt from my newsletter, The Feel Good Tribe. To receive introspective emails written in an easygoing conversational style, come aboard here.
Listen on the embedded player below, or on your preferred podcast platform. If reading is your jam, then scroll down for the transcript. Enjoy! 🙂
"It helps if we leave the past behind. Whatever held you back last year, whatever is not conducive to your growth anymore, let it go. Contemplate on what you learnt and use that knowledge so you won't repeat wasteful patterns again."

Susmitha Veganosaurus – The Feel Good Factor Podcast
If this is your first time here, I invite you to find out more about The Feel Good Factor Podcast. If you think this content can help someone, do share the episode with them. I'd also greatly appreciate a review on Apple Podcasts. Ratings and reviews help the show get discovered by more people who resonate with this kind of message.
Transcript of Letting go, Learning, and Starting Afresh
(gently edited for a better reading experience)
Hello! Happy, Happy New Year. Oooh! I'm sure you can hear it in my voice, how much I enjoyed my break. It was really nice. The last week of December, between Christmas to New Year, I had a nice, relaxing time.
I didn't think about work, or my website, or podcast. Though I did miss you. That's always the case anyway. But I didn't think of any of that. I just let it all go. I didn't even touch my computer, I limited how much I got online on my phone also. It was a really nice, good, relaxing, refreshing experience.
And of course I had a lot of time to think about how I'd like to begin this year, and the kinds of things I'd like to do
What I'd like to create and all those things. Yes, of course, that's a thought process that'll keep going, but it was good to spend some time just considering all of it. How I would like to spend my life this year, and how I would like my 2023 to feel for me.
I thought for today's episode, I should read out an old newsletter to you. This is something I had sent out to my Feel Good Tribe a couple of years ago in January. It was actually January of 2021. We'd just finished 2020, which was, as we all remember, a great year of upheavals.
I was going through a couple of my older newsletters… yes, I love them so much that I do go back and reread them
If you would also like to enjoy the delightfulness of my Feel Good Tribe newsletters, then join. Sign up. I send a lot of conversational emails. Stories from my life with tips about life, business, veganism, spirituality, various things woven into these stories. And of course there are updates about content that I've created, or interesting books or articles that I'm reading, and stuff like that.
Usually my newsletters are sent once or twice a month, and they're brimming with value. I just stuff them up with lots of interesting things.
So coming back to today's episode… The reason I chose this particular newsletter, the 2021 January newsletter
Somehow I felt that message is something we all need to hear again now. Just something to contemplate upon. And a lot of what I've shared then, I felt like it applies to my life now too. So I figured hey, you know, it might do the same to you too. So here it goes…
Now that 2020 is done and dusted, are you all excited to start afresh for the new year? I totally am! I know, I know, the 1st of January is just another day. So why make a big deal of it?
Everyday brings you the opportunity to begin again with a clean slate
Actually, we can break that down further and agree that every minute offers a fresh start. At any single moment, all you have to do is take a deep breath and decide to move ahead with positivity.
But there's still something magical about the big milestones, like the start of a brand new year. It's filled with the collective energy of hope from people across the globe. When billions of people experience high vibe feelings together, it's incredibly powerful! Now all we need to do is sustain that uplifted feeling. Easier said than done! But possible.
It helps if we leave the past behind
Whatever held you back last year, whatever is not conducive to your growth anymore, let it go.
We're gonna have a full moon in a few days. This waning moon cycle is the perfect time to cleanse your life of unwanted things, situations, people and energy. Let go with love and gratitude.
All difficulties have brought a lesson with them
Contemplate on what you learnt and use that knowledge so you won't repeat wasteful patterns again. Forgive yourself and everything and everyone.
I've let go of so much this past year (if you'd like to hear about what I did let go of, and how I managed to do it, then listen to episode 49 of my podcast. It's all about how to let go of something you love. Anyway, coming back to the newsletter). I let go of something that was a huge part of my life for many, many years. Many complicated, bittersweet emotions and thoughts were churned up.
Of course, the purpose of letting go is to make space for something new
And considering half my life went away with whatever I let go of, I can't wait for all the wonderful opportunities for creativity, growth, abundance and joy that this year is bringing into my life!
Before I sign off, I'd like to wish you all a fabulous year.
May you practice self-love and realise your great worth
May you feel deserving and loved
May your year be filled with delightful surprises and many creative possibilities
With love and light, Susmitha. ♥️☺️
So yeah, that was my newsletter from a couple of years ago and I hope it resonated with you.
It made me think a lot about what I did let go of last year
Though it wasn't as major as it was in 2020, last year also there was some amount of cleansing out in my life. Settling into new ways, taking new paths, learning new things. And I can't wait to put all my learning from 2022 into practice in 2023.
I'm also very excited about all the clearing that happened, because yeah, like I said…
Cleansing always creates space for something new, something exciting
So that's it. It's a small episode this time, but I'm thinking it's one which will have a huge impact. Contemplate on everything that I shared.
And if you'd like to get lots of introspective newsletters, then sign up to The Feel Good Tribe. I'd love to see you inside the tribe.
Oh yes. As soon as you subscribe, you're gonna get a welcome email. Hit reply to that and let me know what you feel about this episode. Have a wonderful 2023. And talk to you again next week. Bye
Transcribed using Otter
---
Susmitha Veganosaurus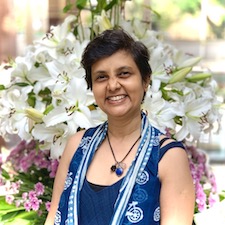 "I'm a Spiritual Vegan Multi-Passionate Entrepreneur. I read voraciously, find humour in most things, and believe kindness and authenticity can make this world a happier, loving place.

If my content resonates with you, join my free newsletter where I share Life and Business Tips, Vegan Hacks, Holistic Guidance, and more.

Vegan cuisine and holistic business building are my two biggest passions. If you're looking for guidance with vegan cooking, or want to grow your conscious business with joy and fulfilment explore ways we can work togetherhere."
---