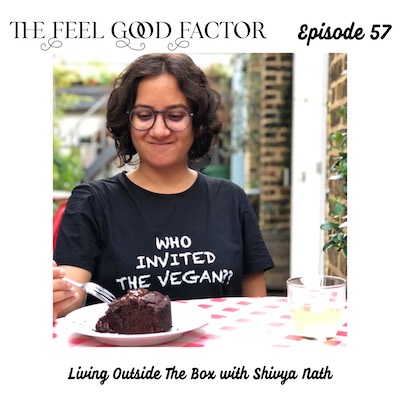 The thing I love most about podcasting is getting to have meaningful connections with a bunch of awesome folks! In the year (and few months) since The Feel Good Factor was launched, I've been able to reach out to so many people whose unique voice and message I admire, and invite them to have a conversation with me on the show.
This interview with Shivya Nath is one of the most enjoyable exchanges I've had the privilege to experience. Shivya is all about thinking and living outside the box. She's a proponent of breaking norms and forging your own path in life. And through her work she inspires others to do the same.
I loved how easily we were able to converse with each other and smoothly navigate multiple topics. If we hadn't had internet issues on the day of the recording, I think we might've gone on chatting for an additional hour. haha
We discussed:
Life as a digital nomad
Solo travel stories
Our creative processes
Developing your voice as a writer
Balancing authenticity with privacy
Feeling financially secure as a freelancer (especially in these uncertain times)
Shivya's latest project, Journeys
Consciously aligned collaborations
What she liked about my Vegan Immersion Experience course
The positive impact we can create on others through our work
How to travel the world as a vegan
Being "cornered" into discovering hidden skills
Thinking outside the box
And more…
I just know you're going to love getting to know this amazing woman!
Listen to the episode in the embedded player below or on any podcast platform.
"I think we need to stop listening to all these voices that are around us and listen to the voice within. That's the one that identifies with our passion, our conscience. And it can really guide us in directions that we never imagined we would move."

Shivya Nath – The Feel Good Factor Podcast with Susmitha Veganosaurus
If this is your first time here, I invite you to find out more about The Feel Good Factor Podcast and subscribe to the show. If you think this content can help someone, do share the episode with them. I'd also greatly appreciate a review on iTunes/Apple Podcasts. Ratings and reviews help the show get discovered by more people who resonate with this kind of message.
More about Shivya
Shivya Nath is the founder of the award-winning travel blog – The Shooting Star, a bestselling author and a leading advocate of solo, offbeat, vegan and responsible travel. In 2013, she gave up her apartment, sold most of her belongings, stored some in the boot of a friend's car and hit the road indefinitely.
She has appeared on the cover of National Geographic Traveller India and been featured by The Washington Post among travel influencers changing the way we think about the world. Her work has appeared on BBC Travel, Conde Nast Traveller and many leading national and international publications. During the pandemic, she co-founded Voices of Rural India – a passion project that aims to build digital storytelling skills and alternate livelihoods among rural communities across India.
You can connect with Shivya on Instagram @shivya.