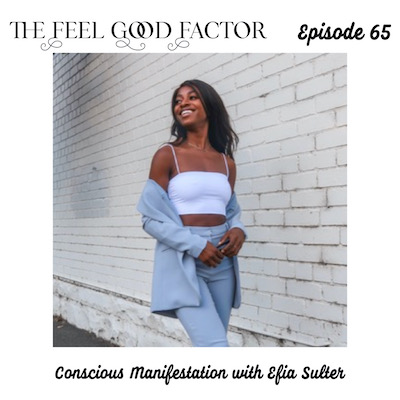 Efia Sulter is a manifestation and mindset coach. After having experienced tragedy, trauma and incredible transformation in her own life, she started Conscious Alchemy, where she teaches her V.I.B.E.S method for conscious manifestation.
I ran into Efia on Clubhouse when she was talking about manifestation techniques and I immediately felt a connection to her work. After attending her workshops and online retreat, I really wanted to invite her on to my podcast so all of you could get to know her.
In this episode, Efia and I have discussed a number of things surrounding conscious manifestation. Some of them are:
The importance for having the right mindset
Understanding the "why" behind your desires
What you want vs who you want to be
Universal laws beyond the Law of Attraction
Recognising how incredible you are
And so much more…
Join Efia's Free Online Retreat on Facebook https://www.efiasulter.com/retreat She's incredibly generous in sharing information to truly help women transform lives.
Listen to the full episode on the embedded player below, or on your preferred podcast app. Share your biggest takeaways on instagram and tag @veganosaurus and @efiasulter_ We'd love to hear how our conversation helped you!
"If you want to manifest an extraordinary life, have all these extraordinary things… first you need to see yourself as an extraordinary person. So really acknowledge how far in life you've come already, how many incredible things you've already achieved, how many lives you've touched… Just acknowledge what you've done already. And really look forward to where you're going next on this journey, because it really is an epic, epic ride."

Efia Sulter – The Feel Good Factor Podcast with Susmitha Veganosaurus
More about Efia
Efia is a Mindset & Manifestation Coach, NLP practitioner and host of 'The Manifest Edit Podcast'. Her mission is to empower and teach ambitious women how to manifest their EXTRAORDINARY life by overcoming their limiting beliefs, finding and living their soul's purpose and connecting to their intuition.
Serving as a practical example of her work after being orphaned at 14, grappling with mental illness and chronic pain to then moving overseas and building her soul-aligned life + business, Efia has inspired thousands around the world to create their lives by design.
Through coaching, a suite of digital products & courses and public speaking Efia highlights the strategy, science and spirituality behind manifestation in order to provide actionable advice from a grounded, no BS perspective.
Connect with Efia on:
Website
Instagram
The Manifest Edit Podcast
If this is your first time here, I invite you to find out more about The Feel Good Factor Podcast and subscribe to the show. If you think this content can help someone, do share the episode with them. I'd also greatly appreciate a review on iTunes/Apple Podcasts. Ratings and reviews help the show get discovered by more people who resonate with this kind of message.