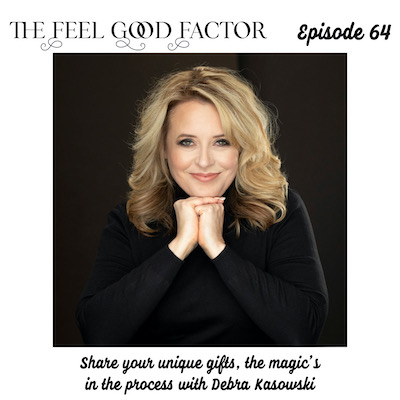 This conversation with Debra Kasowski is packed with inspiring stories and insights. The most important of them all is why it's so important for all of us to share our unique gifts with the world.
Debra shares her learnings through different life experiences, and how she's applied them in her own personal life, and coaching business.
Here are a few of the many things we discussed:
Believing in where you're going, against all odds
Collaboration instead of comparison
The power of community and giving
Her beautiful Christmas shoebox treasures story
Experiencing excitement in the process
Life as a marathon – enjoying the journey and the view
The magic in the smallest of things
How impacting even one person substantially can create ripples
And so much more…
This amazing woman has much wisdom to share. You're in for a treat!
Listen to the full episode on the embedded player below, or on your preferred podcast app. Share your biggest takeaways on instagram and tag @veganosaurus and @debrakasowski. We'd love to hear how our conversation helped you!
"People like to be a part of something bigger. They want to be a part of your story, your success story. And asking for help allows other people to share their gifts."

Debra Kasowski – The Feel Good Factor Podcast with Susmitha Veganosaurus
More about Debra
Debra Kasowski is the charismatic host of the thought-provoking podcast, The Millionaire Woman Show. She's committed to enriching the leadership potential of her countless clients, guiding them to capitalise on their true personal power.
She's an award winning, bestselling author, TEDxspeaker and Certified Executive Coach. She runs Debra Kasowski International, a world-class training and consulting venture. It's focused on helping aspiring business owners and solopreneurs develop the winning "success habits" that transform human potential into sustainable profits.
If you're motivated to move beyond the mediocre, inspired to forge on to the forefront with a proven plan of action, the indomitable Debra Kasowski is your solution.
Connect with Debra on:
YouTube
Instagram
Facebook
Twitter
If this is your first time here, I invite you to find out more about The Feel Good Factor Podcast and subscribe to the show. If you think this content can help someone, do share the episode with them. I'd also greatly appreciate a review on iTunes/Apple Podcasts. Ratings and reviews help the show get discovered by more people who resonate with this kind of message.