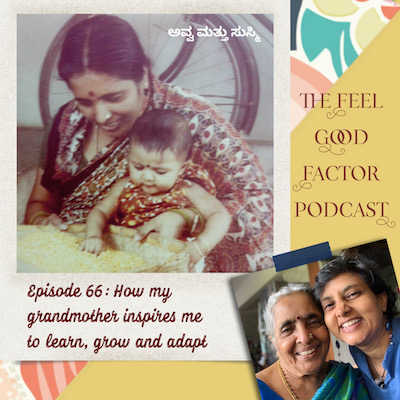 Last month I got to meet my grandmother after more than a year. Though we've had phone calls and even a few video calls, getting to experience her beautiful, warm, loving energy in person felt so good! In her eighties, she still keeps herself occupied all the time. It's so amazing to watch her. Spending time with her made me reflect on the inspiring life she's lived.
I began to wonder what she must've been like when she was in her early forties, and it dawned on me…when my grandma was as old as I am right now, she already had her first grandchild, me. That thought really shook me awake and took me on an introspective journey that triggered this short podcast episode.
Listen to it on the embedded player below, or on your preferred podcast app. Share your biggest takeaways on instagram and tag @veganosaurus. I'd love to hear how the message impacts you.
"The fact that she believes she may not be capable of handling it is not something that stops her from pursuing the new stuff. She's like, "okay, I don't know, it's hard to understand", but she'll do it anyway. That to me is a huge lesson."

Susmitha Veganosaurus – The Feel Good Factor Podcast
Written version of this podcast episode where I reflect on the inspiring life of my grandma. Transcript edited for better reading experience.
It recently occurred to me that, when I was born, my grandma was exactly the age I'm at right now. It was quite a shocking revelation to me, I couldn't quite wrap my head around it.
I know, back in those days, it was pretty common to have kids and grandkids, really, really, young. But I personally can't even begin to imagine having a grandchild. Leave alone a child or an adult child, that's a different matter, but, a grandchild, that's just a crazy thought.
My grandma's a very inspiring person. She's of course been very loving, sacrificing…all the standard stuff which was expected out of women back then. But also, a lot more especially in the loving, caring department. All the kids, all the grandkids, now she has two great grandkids, everybody just loves her and feel so attached to her.
It's kind of incredible how much she's loved. That's because of who she is.
Though that is sweet and nice, I never think sacrifice should be a point of inspiration. Though I appreciate it, what does inspire me is that she's a boundaries boss. And now, in her eighties, she's still so active. She does what she wants, she schedules her own day, plans things.
It's so funny, like usually what somebody expects is, if you call a grandparent, they'll always just be free and just sitting around with nothing to do. The difference in my grandma's case is, though she's always so happy to talk to us, we also know that she has a schedule, she has things to do. And we have timings in which we call her, because we know she'll be free at that point of time.
So, as loving as she is and as much as she loves to talk to us, she's not dependent and waiting for it.
You know, there's that big difference there. She lives her own life. She does own stuff, and then yes, these calls, these connections, these are added benefits in her life.
And that to me is so inspiring, because I feel like no matter what age you reach, no matter where you are in life, it's good to have something, a life, that you've carved out as your own, without being dependent on anybody else for your happiness, or to entertain you, or anything like that.
Talking about entertainment, she barely watches TV. I mean, there may be a little bit in the evening, you know, for a couple of hours, but barely. Very commonly I see this in people who are much older, and even middle aged people in a lot of cases, they fill up their day with mindless television. Just sit and watch TV, and that's how they spend their time.
Now there's nothing wrong with a bit of entertainment, but not if you plan your life around it and let your life revolve around it. I find it absolutely amazing that my gran isn't like that at all. She watches a couple of serials that she likes, but she's never like, "oh my god TV TV TV", all the time. She does her own thing.
And you can imagine, someone from their generation, there is only a limited level of school education that they were allowed back then. I think they let her study till the sixth or seventh, and as soon as she started menstruating, that took her out of school. And that's so sad. She would say, "I never wanted to get married." But then she had no choice, and she was forced into marriage.
And she took that into her stride, like, "okay fine, this has happened", and then she became an amazing matriarch of her family.
She lost her husband in by her mid forties. My grandfather passed away a few years after I was born. Yes, that was sad, but that did not just cripple her from moving on with life, like it does to a lot of people. She took that in her stride too, and she continued to garner the respect of the entire family. The love, and the respect, that's a hard combination. But yes, all her children listen to her, respect her, value her. They care for what she feels, and that's an important thing to have achieved.
While I was growing up, I remember her saying, "I want to learn English." When she watched us, me, my sister speaking English and talking to others, she would have that desire, like, "oh I want to learn too, it would be so nice. I want to speak like you."
So she's always had a desire to learn and to grow as a person. That's pretty cool because that is something that keeps her occupied throughout. Even now, she keeps on learning, keeps on growing, in different areas.
Recently, she got onto WhatsApp. I know it's not the best of platforms, but it's so cool that my grandma, who has studied maybe till sixth or seventh standard, is on WhatsApp. Listening to messages, recording messages, talking to people, checking out the forwards.
And the funny part is, she doesn't completely trust in her ability when it comes to technology. She always says, "oh I forget, oh I don't understand." She just thinks that, but while saying that, she'll be opening the app and doing this and that. She just gets it, and she's really smart and clever. That's because she keeps updating her brain.
The fact that she believes she may not be capable of handling it is not something that stops her from pursuing the new stuff. She's like, "okay I don't know, it's hard to understand", but she'll do it anyway. That to me is a huge lesson.
How often do we all, with all the privileges of education, of exposure, of technology, of everything that we've had, how often do we stop ourselves from learning something new because we preemptively assume that, "oh, I'll never be good at this"? Or, "I'll never be able to learn this"? And, "it's beyond the scope of my understanding, of my capability"? Right? All of us tend to do that quite a bit.
Just because something feels a little more complicated than what we're used to, and just because we think we can't learn it fast enough – speed is what we're all dependent on these days, we don't really have the patience – we dismiss things, and we say, "no I can't do it, I won't be able to do it."
Watching my grandmother achieving everything she has throughout her life, learning new things, growing, adapting to the times when it comes to technology and stuff that, makes me feel like, "wow, I got to do it too."
If this amazing woman who is of an entirely different generation, in her eighties if she can actually use her phone and her tablet like a pro – even though she believes she won't be able to, she still does it – if she can do it, I feel like right now, with everything we have available to us, all the technology, all the knowledge, everything, we definitely need to keep learning, keep growing, and keep adapting ourselves.
And keep staying relevant, not just to the times, but also to our own selves. So that we'll never ever reach a time where we are dependent on somebody else to entertain us, to help us pass our time, to make us feel happy, to feel good. We can do it for our own selves, just by learning, just by growing, just by trying new things. Constantly, repeatedly, without doubting ourselves. Or, even if those little doubts, those little nagging thoughts that, "you can't do it", come, we just brush them aside, and keep doing it anyway.
If you enjoyed this episode, you are totally gonna like everything I send in my Feel Good Tribe Newsletter. I send out emails once or twice a month with secret stories, fun updates, life and business tips, vegan guidance, and so much more.
If this is your first time here, I invite you to find out more about The Feel Good Factor Podcast and subscribe to the show. If you think this content can help someone, do share the episode with them. I'd also greatly appreciate a review on iTunes/Apple Podcasts. Ratings and reviews help the show get discovered by more people who resonate with this kind of message.