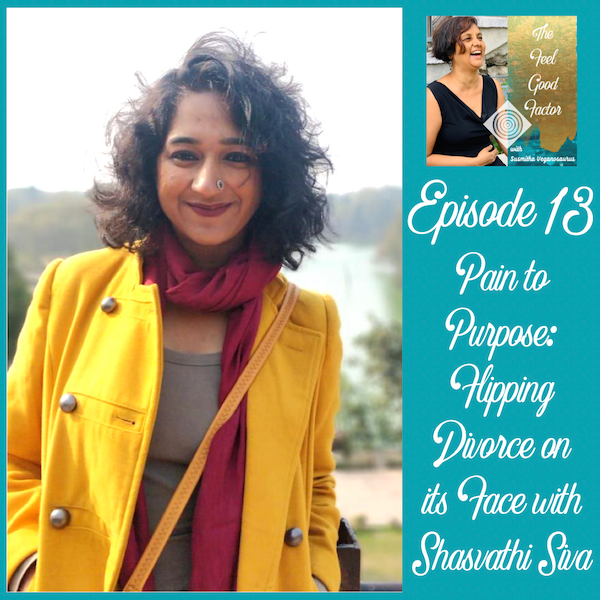 From divorce parties to support groups to uplifting herself on difficult days, listen to this interview with Shasvathi Siva aka Shaadu. And get ready to be very very inspired by this happily divorced woman from India.
Shaadu is a beautiful being who effuses love and positive energy. When life threw a challenge her way in the form of a difficult marriage, she not only quickly figured out how she would get out of it, but also how she could help other people, women in particular, who were in a similar situation.
Everyone who listens to this episode will come away having learnt plenty and your minds blown open.
You can connect with Shasvathi on Instagram @shasvathi or @cowvathi. And if you live in India, don't miss ordering her scrumptious vegan cheese her website, Cowvathi.
This is episode 13 of The Feel Good Factor, a podcast about making happiness your highest priority. You can also listen to interviews of more awesome women who help women on the show.


"I decided that I'm going to throw a divorce shower. I don't even know if anybody in India has even done that before, because the second somebody gets divorced they are taught to like just brush it under the carpet. Like, "Oh my god, don't talk about it. Don't tell anybody about it." And I was like, "No, I'm going to tell the world about it!" Because why not? Everybody in the world knew about my wedding. Let the world also know that it did not last."

Shasvathi Siva – The Feel Good Factor with Susmitha Veganosaurus

Transcript (edited for better reading experience)
Work in progress.
Transcribed by Otter.