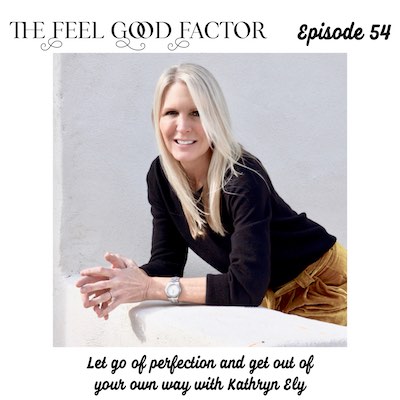 Kathryn Ely of the Imperfect Thriving Podcast talks about how to overcome the obsession with perfectionism and the different ways this can makes our lives so much more easy and joyful.
She shares anecdotes from her own personal experiences and how these incidents not only led her to embrace and harness imperfection in her life, but also help others do the same.
Listen to our conversation and learn about:
Eliminating procrastination
Being your own best cheerleader
Letting go of judgement and limiting beliefs
Being more confident
Focusing on the process instead of the result
Learning to forgive yourself
Finding joyfulness in relaxation
And so much more
Get ready for some deep insights! Listen to the interview in the embedded player below or on your preferred podcasting app.
If this is your first time here, I invite you to find out more about The Feel Good Factor Podcast and subscribe to the show. If you think this content can help someone, do share the episode with them. I'd also greatly appreciate a review on iTunes/Apple Podcasts. Ratings and reviews make the show more discoverable.
"Dig down and see how your brain is trying to limit you, whether your brain is telling you the truth, and what you can do in your life if you choose not to believe the limiting beliefs that your brain is sharing with you."

Kathryn Ely – The Feel Good Factor Podcast with Susmitha Veganosaurus
More about Kathryn
Kathryn is a former attorney turned licensed, national certified, counselor, and a recovering perfectionist. Through her Imperfect Thriving Podcast, counseling, consulting, and program development, Kathryn helps you let go of perfection and get out of your own way so you can take action, reach goals, and love yourself.
Connect with Kathryn on her Website (where you can avail the Free Gift), Instagram @imperfectthriving and Facebook Group.