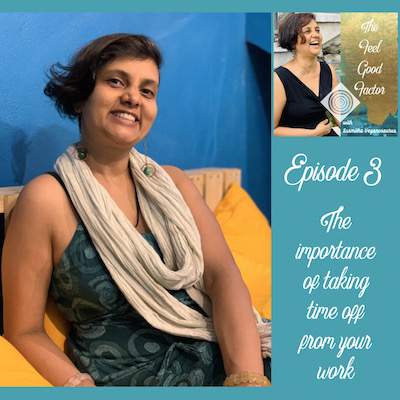 Taking time off from work regularly is a very essential habit to form. As an entrepreneur, it's natural to want to work very hard to make your business successful. But without proper breaks to rest and rejuvenate, it's easy to end up overworking and burning out.
In this episode of The Feel Good Factor podcast, I share my personal journey of being a chilled out freelancer to a workaholic and back. And how my energy levels influence my business significantly.
"As an entrepreneur, when you allow yourself to burn out, you're doing a disservice. Not just to yourself, but also to your business, to your team and to your customers. It's very, very important for you to keep your energy at a high vibe level so that everything and everyone around you gets uplifted along with you."

Susmitha Veganosaurus – The Feel Good Factor
Transcript (edited for better reading experience)
You know how they say when you have a job that you love, you'll never have to work a single day in your life? Whoever coined that phrase, they've never run a business of their own. *laughs*
Welcome to The Feel Good Factor! I'm Susmitha Veganosaurus.
I'm one of those fortunate people who's never had to earn a living. So after college, while my friends went on to study further and then on to corporate jobs, I stayed back home and did things that I loved. Most of the time.
I'd make jewelry and sell it on Etsy. I would do tarot reading sessions. I'd teach French tuitions, I'd teach cooking to people. Lots of freelance gigs, basically.
When my friends would complain about having late hours, having to finish a project and stay on over the weekend, and things like that, I'd never understand it. I'd be like, why? Why are you being a workaholic, why is that even required? Why can't you just take time off for yourself?
So I was someone who'd value time for myself, alone at home, relaxing. A lot of that with, yes, some amount of doing work.
Then I became an entrepreneur and everything changed. *laughs*
I initially joined Carrots, my vegan restaurant as an employee, a team member. So in my usual style, I would go there only a few days a week.
When I was invited to join the team, I had made it very clear that I would not be there every single day. I would need a lot of time at home for myself. So I would go into work maybe three, four times a week, work a little bit from home and then relax most of the time. That was a great life!
But within a few months of joining as a team member, I became a partner of the restaurant. And by the end of one year of me joining, most of the responsibility of the day to day running of the restaurant had fallen onto my shoulders.
Life in the food industry is really tough to begin with. And here we were running a restaurant, a vegan restaurant, the first of its kind in India.
We were way ahead of the curve. So the first three to four years were a real struggle. We had to work very, very hard to make sure that we even continued to exist.
So I started pouring myself, my whole being, my whole life, into this venture that I truly, truly believed in.
I would go in every single day and spend long hours. I'd work a lot on promoting our business on social media, coming up with menus with my team, taking care of our guests together, a lot of that.
Yes, all the hard work did pay off. We were getting more stable, we were growing stronger. Our food was becoming more popular. Guests were coming and they were raving about the amazing experience that they had at our space. So it was all wonderful and joyful and, you know, filled with little celebrations all along the journey.
But somewhere along the way, I realised I'd lost a lot of myself in the process, a lot of who I was.
Five years into my journey, I looked back and realised that this person who used to love the alone time, the silence, the person who used to sit and spend a lot of quality time in rest and relaxation, in refreshing myself, that person had disappeared.
Here I was running a venture I truly cared about and doing things that I technically loved, and I wasn't happy anymore. I felt tired, drained – emotionally, mentally, physically. So I decided I just had to do something about it.
As an entrepreneur, when you allow yourself to burn out, you're doing a disservice. Not just to yourself, but also to your business, to your team and to your customers. It's very, very important for you to keep your energy at a high vibe level so that everything and everyone around you gets uplifted along with you.
If you are burnt out, overworked and drained, how exactly are you planning to keep your energy at a high vibe level?
So I very, very consciously started taking time off for myself.
First, it started with a couple of extra days a week. Tuesday is our weekly holiday, but other than that, I was taking two more days off. That started really helping,, to begin with. And then, if I felt I really needed it, if I'd had a particularly long particularly tiring few weeks, I would take a complete week to ten days off for myself. And then spend that time in silence at home, being very minimally available to my amazing team.
Fortunately, the team is awesome and they manage things very well by themselves. So I took advantage of that. And I would be very minimally available to them on calls if required but most of the time, I'd be taking off.
When I say take off, a proper taking off. And it was a habit that I had to develop.
Initially, when I started staying home, I would still do a lot of working from home. I would go check social media, try to answer posts, try to come up with other ideas. But then I realised that if I took time off, and spent time in silence doing things not related to my work, my brain had time to rest and reset, my heart had time to rest and reset.
I realised I started coming up with a lot of better, newer, more wonderful, refreshing ideas! I started feeling a lot more energetic and enthusiastic. And I started to love my job once again!
And the best part is, as I became more happy, I could see clearly that energy infusing out into my business. My team became more happy.
Not just that, the business improved too. Yes. Can you believe it? I've seen it clearly in this past one year. Whenever I've felt emotionally down or sad, we never used to have much business. But whenever I felt really happy and cheerful, that would automatically attract more business. More good energy into the business.
It was a validation that taking care of myself, my emotions, my happiness, and me feeling good, definitely, definitely helped everyone and everything around me.
I'm going to leave you with a few questions to contemplate upon.
When was the last time you took a holiday for yourself? Not holiday as in going off on a trip necessarily but just a holiday, to stay and to take care of yourself? How often do you take breaks for yourself throughout the week or even for that matter throughout the day? You know, there are so many times throughout the day where we can take little breaks – just say five minutes, ten minutes, half an hour.
Sometimes when I feel very frustrated and very stuck at work, I just walk out and go across the road into a park that's there and do a few rounds of walking around it. All I have to do is that. The fresh air, the good energy – I come back into work a completely new, loving, happy person!
So focus on yourself and be conscious about how often you're taking time out. Time to rest time to breathe, time to just relax for yourself.
If you'd like to share how consciously taking downtime has helped you in your life, I would love to hear. You can get in touch with me at Veganosaurus on Instagram.
Signing off for now, thank you so much for listening to The Feel Good Factor. Bye!
Transcribed by Otter.
If this is your first time here, I invite you to find out more about The Feel Good Factor Podcast. Feel this content can help someone? Do share the episode with them. I'd also greatly appreciate a review on iTunes/Apple Podcasts. Ratings and reviews help the show get discovered by more people who resonate with this kind of message.
---
Susmitha Veganosaurus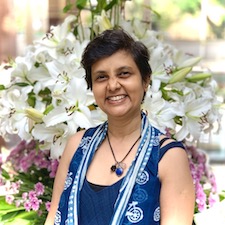 "I'm a Spiritual Vegan Multi-Passionate Entrepreneur. I read voraciously, find humour in most things, and believe kindness and authenticity can make this world a happier, loving place.

If my content resonates with you, join my free newsletter where I share Life and Business Tips, Vegan Hacks, Holistic Guidance, and more.

Vegan cuisine and holistic business building are my two biggest passions. If you're looking for guidance with vegan cooking, or want to grow your conscious business with joy and fulfilment explore ways we can work togetherhere."
---