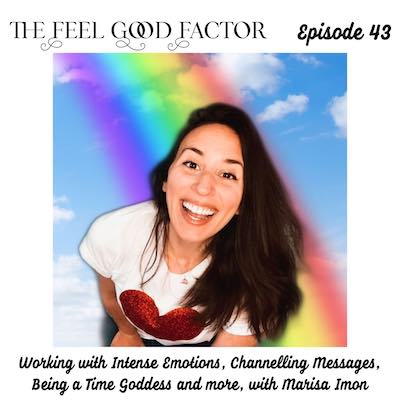 This is one of my favourite interviews on the podcast! I love Marisa Imon's beautiful energy and soothing voice. There is so much to learn from her and be inspired from.
In this conversation, Marisa and I discuss:
Living with bipolar disorder medication-free
Learning from your emotions vs running away from them
Treating your "lower" emotions with love
Surrendering to the higher intelligence of "everything's happening at the perfect time"
Being a time God/Goddess
How beliefs create reality
Tuning into channeled messages
Meditation as a tool to be more present
The need to slow down and put yourself first
And so much more…
I also mentioned my mini course, "Ignite your Joy!" on this episode. Join in for five days of activities, meditations and food tips to help you make happiness your highest priority. It'll be available for free until 20th October 2020, so register soon and complete it before the last date.
"It's been seven years of working with my emotions. To learn how to live well with them vs feeling like I have to run from them or hide from them or be at the mercy of them…It's not that I'm not getting those intense lows, or intense highs. But now, because I'm not running away from them, I'm being mindful with them. I'm being present with them. I'm asking them, 'What're you here to show me? What am I here to learn from with you?' We work together."

Marisa Imon – The Feel Good Factor Podcast with Susmitha Veganosaurus
Transcript (edited for better reading experience)
Work in progress.
Transcribed by Otter.