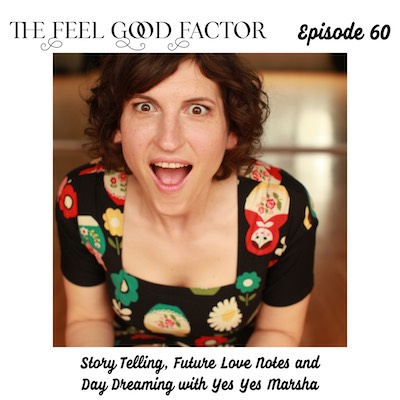 As we waltzed from one delightful topic of conversation to another, we giggled, came alive and couldn't contain our excitement as the ideas flowed. Marsha is hands down the most fun, interesting person I've interviewed on my show until now!
As soon as you start listening to this conversation, you'll feel her energy and my exhilaration as I'm drawn into her stories and ideas. She's one hilarious lady, so make sure you're somewhere where it's okay for you to let out random bursts of laughter.
This woman is full of intriguing, unique stories and ideas! I can't get enough of them. And I'm beyond excited for you all to get as hooked as I am to the wonderful world of Yes Yes Marsha.
The conversation made me feel so good that I've listened to it multiple times. Yes, even after I had completed the editing and refining work and didn't "need" to listen to it anymore! That's how much I love it.
Oh and if you're a podcaster, you'd be lucky to have her as a guest. She created a secret web page just for my audience with all the links and resources she mentioned on the show. And what's even more amazing is that she freaking noted down all our talking points and sent them across to me so I could easily copy/paste them below. How thoughtful is that?!
Here they are, the key topics we discussed:
Storytelling as time travel
Everything you need to know about how to tell good stories (in 5 mins)
How to edit your stories
Marsha's thoughts on manifestations and tarot (and how they can work, even for the skeptics)
Her philosophy on why it's important to get your hopes up
Her best ever life hack — writing letters to your future self
And here's the fabulous secret web page she's built just for you all. Dive in and have fun. You're welcome. *grins*
Listen to the episode on the embedded player below, or on your preferred podcast app.
"Not getting excited does not protect you from disappointment and grief when you don't get the thing. And so why not get excited? If it's not going to protect you, then why not just do it and have a good time?"

Marsha Shandur – The Feel Good Factor Podcast
If this is your first time here, I invite you to find out more about The Feel Good Factor Podcast and subscribe to the show. If you think this content can help someone, do share the episode with them. I'd also greatly appreciate a review on iTunes/Apple Podcasts. Ratings and reviews help the show get discovered by more people who resonate with this kind of message.
More about Marsha
Marsha Shandur (of Yes Yes Marsha) is a Storytelling, Communication and Speaker Coach who has taught hundreds of executives, entrepreneurs and professionals across the world. She is the host, organizer and Storytelling Coach for True Stories Toronto, the city's largest storytelling show.
Before launching Yes Yes Marsha and her career as a Storytelling Coach, Marsha spent 15 years working as a Radio DJ, where she gained a powerful understanding of how to tell stories in a way that fosters connection, trust, engagement and loyalty. Her work has been featured in Forbes, the BBC and Mashable.