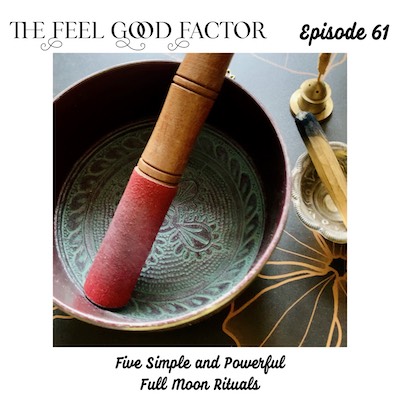 The energy of the waning moon is very conducive to clearing unwanted energy from your life so that space can be created for new, useful energy. I follow various spiritual practices on full moon nights and in the days following it. Here are my five favourite full moon rituals for you to try.
They're simple and powerful. If you're new to this, you don't have to do all of them at once. Just start with the practice which most resonates with you and build from there.
I've spoken about each of these rituals in detail on the podcast episode:
Washing and Charging Crystals
Write, Tear, Burn – Emotional and Mental Clearing
Sound and/or Aroma Ritual – Energetic Cleansing
Guided Meditation – eg. Magical Stream Healing Meditation (by me), Full Moon Meditation (by my friend Marisa)
Intentional Decluttering – Physical Cleaning for Manifestation
Apart from these, if you're able to, spend at least 30-60 minutes looking at the moon and bathing in its light every full moon night. It's a beautiful, calming, energising experience.
Listen to the full episode on the embedded player below, or on your preferred podcast app. If you find the information useful, take a screenshot and share on your instagram stories so more people can find the content easily. Don't forget to tag me @veganosaurus.
"Whenever you're getting rid of stuff, it's creating space for something new and useful to enter your life. Abundance is supposed to flow through your life, things are supposed to flow through your life. Not supposed to come and get stuck with you."

Susmitha Veganosaurus – The Feel Good Factor Podcast
If this is your first time here, I invite you to find out more about The Feel Good Factor Podcast and subscribe to the show. If you think this content can help someone, do share the episode with them. I'd also greatly appreciate a review on iTunes/Apple Podcasts. Ratings and reviews help the show get discovered by more people who resonate with this kind of message.