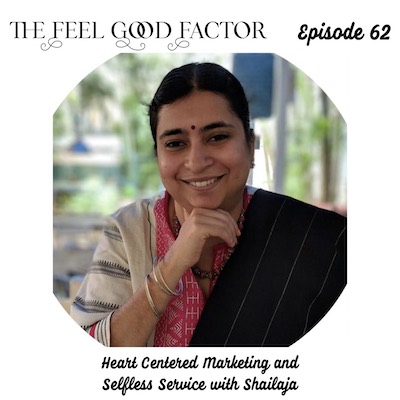 "Does it make your soul happy?" This the magic question Shailaja Vishwanath asks us to go back to again and again as individuals, entrepreneurs or content creators. And I for one can say it's an approach that works like a charm!
Shailaja and I connected over a decade ago, when we were both fairly new to the blogosphere. Back then, she was a parenting blogger who wasn't much into cooking, and I was a food blogger with no kids of my own. Our worlds intersected because of our love for writing and blogging.
Though we both led very different lives, the Universe kept us connected and we've watched each other grow and evolve in the way we live, work and create. We've both pivoted a few times since the time we met. And over the years I've only felt more and more in alignment with Shailaja's energy.
Now we both find our purpose in helping people feel joy and ease in the work they do, and I deeply resonate with the messages she shares with the world. So when I read her Instagram post about Selfless Service, I just knew I had to have her back on the show to discuss it in more detail.
For those of you who've been listening to my podcast since last year, you might remember Shailaja from episode 33, where we discussed Mindful Productivity (and much more).
This time she shares more of her insights! Our conversation is packed to the brim with so many nuggets of wisdom, so keep a pen and notebook handy.
These are just a few of the many, many areas we covered:
Selfless service
Masculine energy vs feminine energy in marketing
Creating without attachment to results
Being productive while not pushing yourself
Finding joy in whatever you're doing
Looking for ways to make things interesting
Doing things for their own sake
Being compassionate without being a pushover
Abundance mindset and community
And so much more…
Listen to the full episode on the embedded player below, or on your preferred podcast app. Write in to me @veganosaurus on instagram with your biggest takeaways.
"When I create content, the first thing I ask myself is, how is this making my soul happy? And even without us realising it, when we tap into that deepest sense of what makes us happy, we create content which will automatically make our target audience happy."

Shailaja Vishwanath – The Feel Good Factor Podcast with Susmitha Veganosaurus
If this is your first time here, I invite you to find out more about The Feel Good Factor Podcast and subscribe to the show. If you think this content can help someone, do share the episode with them. I'd also greatly appreciate a review on iTunes/Apple Podcasts. Ratings and reviews help the show get discovered by more people who resonate with this kind of message.
More about Shailaja Vishwanath
Shailaja is a Blog and Social Media Coach with a focus on Organic Audience growth. Her aim is to teach content creators to deeply connect with their audience while growing their business in a slow yet sustainable manner.
Get more of her content and connect with her via: Website, Medium, Instagram: Linkedin, Facebook, YouTube.