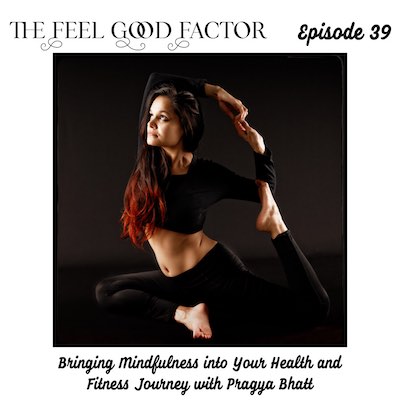 In the quest to weight loss, Pragya Bhatt discovered the power of mindfulness in her health and fitness practices. She embraced self-love, dove deep into Yogasana and found her calling as a Yoga instructor and writer.
In today's episode, Pragya and I discussed:
The many aspects of Yoga beyond just the Asana practice
Understanding the symbolism and deeper meaning behind each pose
Developing a healthy, loving relationship with food
Being mindful about the energy of the foods we eat on a subtle level
Getting over the emotional toll of fat shaming
And so much more
Listen to more Self-Care and Wellness episodes on The Feel Good Factor.


More about Pragya
A lifelong battle with weight and an increasingly unhealthy corporate lifestyle are what propelled yoga teacher and writer Pragya Bhatt towards the practice of yoga. After about a decade of teaching, Pragya Bhatt is now an international yoga teacher and author of the best selling book 'Beyond Asanas: The Myths and Legends Behind Yogic Postures'. The book was published in 2019 by Penguin Random House and was awarded the best book in the Health and Wellness category at the Gurgaon Lit Fest in the same year.

With a degree in computer engineering, Pragya has over 8.5 year of experience in the corporate world. While she values the lessons she learned there, she's glad to be donning the Yogiprenuer hat.

She conducts a yoga retreat annually in Italy and is also a council member of the Karnataka State Yoga Council. Pragya is currently pursuing her Master's in Yoga Therapy from the Swamy Vivekananda University and working on her next book. Read her blog and follow her on social media for an interesting and quirky take on everything yoga related.
Connect with Pragya on:
Website/Blog
Instagram: @yogawithpragya
Facebook
Amazon link for her book Beyond Asanas
"The depth with which I'm connected to myself, to people around me… believe it or not, with every single yoga practice you do work on these. There's a palpable difference. "

Pragya Bhatt – The Feel Good Factor Podcast with Susmitha Veganosaurus
Transcript (edited for better reading experience)
Work in progress.
Transcribed by Otter.