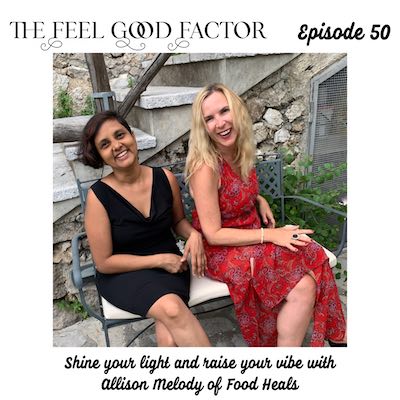 On this milestone episode of the show, I've interviewed my friend, mentor and inspiration, Allison Melody. Alli is the epitome of how shining one's own light can raise your vibrations, uplift you, and set off a powerful, positive ripple effect on the world.
This extra long conversation is packed with so much value! We discussed:
overcoming great difficulties
building and growing a business
being an authentic entrepreneur who can change the world
valuing your experience and efforts
forgiveness
letting go
manifestation
and SO MUCH MORE!
A little over two years ago, I listened to my first episode of The Food Heals Podcast. It featured some very inspiring women (including Chef Leslie Durso who led me to the podcast in the first place). I can never forget that feeling of expansion I had as the conversation progressed. It felt like there was so much potential for me to tap into. I just knew my life would be irrevocably changed from that point onwards though I didn't know how.
Flash forward to today, I've had the privilege of meeting both Allison and Leslie in person, attend the Food Heals Italy Retreat, and be a part of Alli's Rise and Bloom Mastermind (disclosure) for the past year. My 2020 has been filled with so much growth and learning because I've been a part of the group. I've shared the kind of value I've found on the group in my conversation with Alli.
Listen to the complete episode below and then explore more stories and conversations on my podcast, The Feel Good Factor.


"Forgiveness literally opens the door to freedom. If you can't change someone, you have to let it go."

Allison Melody – The Feel Good Factor Podcast with Susmitha Veganosaurus
Some photos from our Food Heals Italy Retreat and the Rise and Bloom Mastermind online coaching sessions…