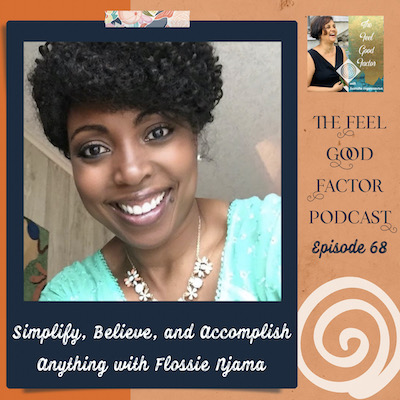 From growing up in a village in Kenya, to becoming a nurse in the USA, from having zero knowledge about technology a year ago to successfully running online challenges and becoming an author now, the trajectory of Flossie Njama's life is absolutely incredible! And she's only just beginning the immense impact she's about the create on the world.
In this episode, Flossie shares her story, her struggles, and her successes through her life. Her experience as a nurse and personal journey of recovery ignited the passion in her to help others heal through a mind, body, soul approach.
She's also a big proponent of simplification over perfection. Her wisdom and energy will make you feel like you can absolutely accomplish anything, as long as you believe in yourself and just try. And she'll also have you wanting to start drinking warm lemon water and ginger shots. haha
Listen to to the interview on the embedded player below, or on your preferred podcast app. Share your biggest takeaways on Instagram and tag @veganosaurus and @flossienjama. We'd love to hear how this conversation impacted you.
You can read more about Dairy Alternatives Workshop I mentioned in the introduction here.
"You don't know what you have, and you know, and you got until you try it out and you put it out there…I didn't know I could do any of this! Any of this…You don't know until you put yourself to it. You know so much, there's so much in us. And you gotta work it, and believe in yourself."

Flossie Njama – The Feel Good Factor Podcast with Susmitha Veganosaurus
More about Flossie
Flossie Njama is an Inspirational Health advocate and guide who is passionate about a simple, inexpensive, healthy lifestyle. A juicing enthusiast, she leads the Simple Life Healthier U Family Facebook group. She is a practicing RN, BSN, with more than 26 years of critical care nursing experience. Flossie empowers busy, middle- aged women to take charge of their health while they gain the freedom that comes with time.
Flossie is an Amazon bestselling author. Her book, Village Vibes Shockingly Simple Ways to Stop Autoimmune Disease, details the successful reversal of her Autoimmune diagnosis in 2015. Known for her freshly juiced ginger shots, Flossie is born and raised in Kenya and has lived in St Louis, MO for the past 22 Years.
Connect with Flossie on:
Website
Instagram: @flossienjama
Facebook Group: Simple Life Healthier U Family

If this is your first time here, I invite you to find out more about The Feel Good Factor Podcast and subscribe to the show. If you think this content can help someone, do share the episode with them. I'd also greatly appreciate a review on iTunes/Apple Podcasts. Ratings and reviews help the show get discovered by more people who resonate with this kind of message.