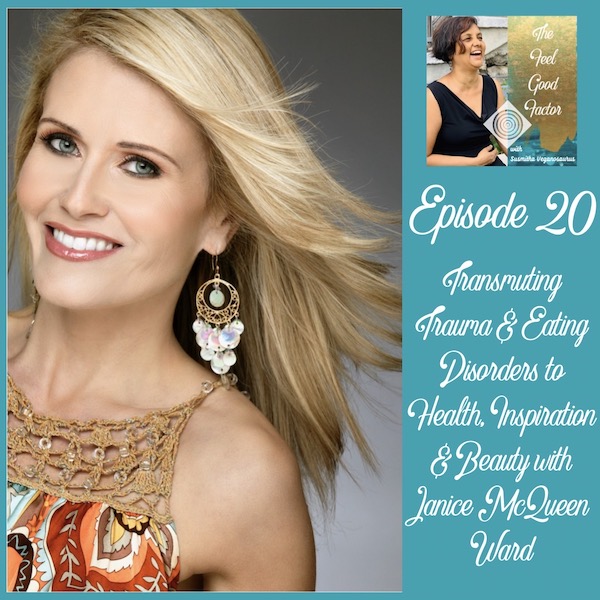 Let me start by saying that Janice's story is damn freaking inspiring! She is a beacon of hope for anyone who wants to turn their pain to purpose. Learn all about how she took her trauma and eating disorders and turned them around completely to a life of happiness and helping other women.
The first trauma she went through in childhood lead to eating disorders and self judgement. The next (bigger) trauma in adulthood however, completely changed her outlook on life and self-care. After that, Janice started to truly shine from the inside out and has been able to mentor and guide many women to find their power.
Janice's gentle voice and kind energy make this interview not just inspiring, but also very pleasant to listen to.
Listen to more episodes of Women Helping Women on The Feel Good Factor.


More about Janice McQueen Ward
Janice McQueen Ward is an accomplished TV Host, Actress, and Pageant Coach. She began her career in pageantry at 17, winning over 10 major titles, most notably, Mrs. United States, where she was a guest of President Clinton and the White House, and made over 200 appearances on behalf of Lung Health and Wellness.
Janice has guest starred on many shows, been a celebrity guest host on QVC, Shop HQ, and has starred in many national commercials and infomercials. Currently Janice is a Pageant/Life Coach, Beauty Expert, and Host for an International Podcast Show – Beauty Call Podcast
Connect with Janice on:
Website: JaniceMcQueen.com
Instagram: @janicemcqueenward
Facebook: @beautycallpodcast
"You're supposed to look inward, so that you can help others. I think that was my course in life, and that is my course in life. As you evolve as a person, continue to understand that whatever happened to you…there's a reason. So just find that reason, and embrace it, and love yourself for it. It will make you feel better. It will help you heal yourself. And then you will have that true power to be able to do the things that you want to do."

Janice McQueen Ward – The Feel Good Factor with Susmitha Veganosaurus

Transcript (edited for better reading experience)
Work in progress.
Transcribed by Otter.