Category:
Blog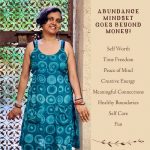 Writings about self-care, wellness, conscious entrepreneurship, mindfulness, abundance mindset, feminine energy, joyful living, heart-centered business, and more.
I returned home from that trip with a subtle but powerful shift in the way I make decisions.
Desperate actions drain you, drag you, make you feel small and helpless. Inspired actions fill you with positivity and help you cruise along smoothly.
You obviously started your business because you care about helping a positive movement grow. And only YOU know the practicalities of running your business.